3 - 5yrs Clinic
Having Fun
Kids in Museums campaign
It all began in 2003 when writer Dea Birkett's son shouted "monster!" at a statue of Eagle Man at the Royal Academy in London, and got thrown out. Dea's subsequent article in The Guardian spurred hundreds of families to write in with similar experiences. A few months later, the Guardian launched its Kids in Museums Campaign along with a 20-point Manifesto.
Dea's vision was simple: that all families should be fully welcomed in Britain's museums and galleries. Over the past six years, Kids in Museums has been instrumental in blowing the winds of change through many a fusty museum.
"Museums are doing marvellous, innovative, exciting, adventurous things for families, which is great," enthuses Dea. "We're like a critical friend to museums - we work with them to make them more family friendly."

Those aims are very practical - be accessible, have lots to do, produce guides and trails for children (and for families to use together), teach kids respect for objects and other people - and many museums and galleries have come a long way to meet them.
A place to park prams and pushchairs
Parents are fed up with being told that there is nowhere to store prams and pushchairs. And when the galleries are crowded this is the last thing visitors want anyway.
Hands on doesn't mean computers and buttons
Families don't want interactive to be computer screens and buttons. They want hands on to mean just that – handling real things, dressing-up, getting messy. Families can watch a computer screen at home. Museums should be different.
'Don't touch!' is not the right approach
Families ask museum staff to be positive when they approach them. Say things like, 'Isn't that a great painting. Let's look at it together from further back.'
Have flexible family tickets
Don't dictate the size of a family. Families come in all shapes and sizes. Families want a family ticket even if they have three kids, or are a lone parent family.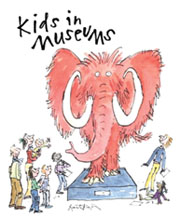 Have your say...
How could museums and galleries further improve?
Or are they bending over too far in their attempts to entertain children?

Each new manifesto is shaped from visitors' comments, so here is your opportunity to go online and have your say.

www.kidsinmuseums.org.uk/


Related Articles
Kids in Museums: 2011 winner is ...
First Aid courses from an award winning London based company
Head Injuries - what to do and what to look out for
Have Your Say
Be the first person to comment on this article, just post a comment below.