3-5
Days Out
Kids in Museums: 2011 winner is ...
Mansfield Museum in Nottinghamshire scoops the Guardian Family Friendly Museum Award for 2011.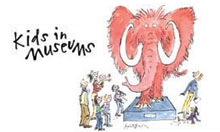 This small museum in Nottingham picks up the 2011 Guardian Kids in Museums family-friendly award despite its unpromising collection of 19th Century porcelain and glass cabinets of stuffed animals.
'Mansfield museum was a surprise to us. From a Guinea Pig trail to turning the museum into an old fashioned department store stocked with their collection of household goods, they've proved you don't need an architecturally astonishing building or Egyptian mummies to entice and entrance families. And it's fabulous that the local children's choirs practice there. It turns the idea of a museum as a quiet place on its head. You go to Mansfield Museum to sing your heart out!' says Dea Birkett, Director of Kids in Museums.
Family judge Jackie Shears, who went to Mansfield with her three children aged between eight and three, liked the low-tech interactives and that the kids could sit down and colour in every single room. She only had one complaint. 'There was no loo roll in the Gents!'
The other shortlisted museums were:
Corinium Museum, Circencester
The Potteries Museum and Art Gallery, Stoke on Trent
Kilmartin House Museum, Argyll
Horniman Museum, London
Abbey House Museum, Leeds
If you've been to the Mansfield and would like to tell other parents about it - leave your review here.
Related Articles
Related Forum Topics
Forums: 3-5yrs
Have Your Say
Be the first person to comment on this article, just post a comment below.