Trying To Conceive
Shopping
Maybe Baby - New Fertility Tester
Getting pregnant is not as easy as you may think. And for those with irregular monthly cyles or if you want to know when you are ovulating, the Maybe Baby is a new non-invasive testing kit.

Women trying to conceive have an additional option when it comes to fertility testing.
Regardless of the reason, if you're having trouble having a baby, its never a bad idea to get to know your cycle.

What is the Maybe Baby?
Maybe Baby is a saliva-based fertility tester. It can detect ovulation 2-3 days in advance and helps chart your cycle on a daily basis. Because it has no expiration date (other than needing new batteries from time to time) it can be used over and over again.
How to use the Maybe Baby
The best time to test your hormones is as soon as you wake up. The tester itself is easy to use, just spit on the "sample plate" and wait for it to dry. After 10-15 minutes, you should be able to view the results through mini microscope attached to the tester.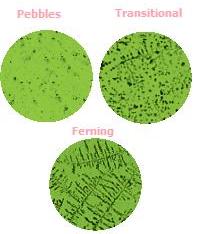 Compare the images formed with the patterns provided on the product's leaflet:

Pebbles: random spots and dots are a sign of a non-fertile phase.
Transitional: small ferns forming amidst dots indicate the beginning of a fertile phase.
Ferning: a distinctive pattern of ferns that represent the most fertile moment in your cycle, when conception is more likely to occur.
NB* Ovulation cycles are unique to each woman, so you'll propbably need to use the tester for a couple of months before results reach their best accuracy. Women who've been on birth control should allow 2 natural cycles before they begin testing.
Should you use the Maybe Baby?
The bottom line is that if you're having difficulty getting pregnant, Maybe Baby is a extra hand to help you understand your cycle with the added bonus that it doesn't interfere with other fertility testers or treatments. Unfortunately though it can't guarantee you a pregnancy.

How much is a Maybe Baby and where can you buy it?
Maybe Baby costs £40 from www.maybebabyovulation.com or at Rowlands online pharmacy www.rowlandspharmacy.co.uk.
Testers...
We have two MayBe Baby kits for testing. Email editor@babydirectory.com if you'd like to become a tester.
Related Articles
The Pudding Club Maternity Hire
New Technology for an App-ier Pregnancy
The Portland Hospital Welcomes Visitors to Pregnancy Open Day on Sunday 22nd of November 2015
Open day for prospective new parents at The Portland Hospital
Open day for prospective new parents at The Portland Hospital
The Portland Hospital invites parents-to-be to tour its world class maternity facilities
Related Products
Lala and Bea, Organic Nourish Balm
Lala and Bea, Organic Nourish Oil
Have Your Say
Comments in chronological order (Total 4 comments)