Toddler
Shopping
SpongeBob Earplugs
SpongeBob Squarepants earplugs to protect little swimmers ears.
Lots of children hate the feeling of getting water in their ears, whether that's in the bath, for a hairwash or whilst learning to swim. But these new Spongebob SquarePants Ultra Soft earplugs may be just the thing to help your toddler overcome these hurdles.
The earplugs are made of soft silicone and contain aloe, which works as a powerful anti-microbial agent, meaning they can be used again and again as it works to destroy bacteria.
They come in packs of 3 and are sold with a waterproof case. They cost £4.99 and are available to buy at Boots and Amazon.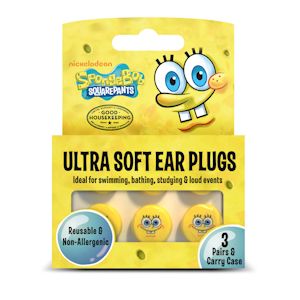 If you and your toddler would like to try some out for a review on babydirectory.com we have 3 sample packs.
Related Products
Have Your Say
Comments in chronological order (Total 2 comments)
omalley_be, Surrey
4 Jan 2013 11:41am
Our little one LOVES swimming and these were perfect for her, she doesn't get the annoyance of water in her ears wen she splashes into the pool like the crazy loon she is. And they are easy to use and mould. She's 2 :)
3teenagersandatoddler, Mother of 4, Central & Lothian
13 Sep 2012 9:34pm
theses are fantastic well worth the money and highly recomend . my little girl is 17 months and a regular visitor to our local swimming pool she hates water in her ears and i got the chance to test these and so glad i did as i prob would of not bought them typical "im not paying a fiver for ear plugs" attitude there like playdough all squishy sit in her ears nice and are reuseable i kept them in my jeans pocket as found tht when a little warmer mould in her ear better all in all a big high 5 for these just need to get nice princess ones now all pink and girly lol xxx