Change
Current Location:
SW1W 8EL
Storksak, Olivia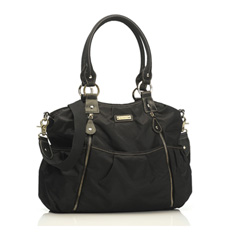 RRP: £95.00
Dimensions: 31 x 43 x 13

This is a simple, lightweight and practical bag. It is made from nylon satin with a faux leather trim, and featuring gold zippers and hardware. There is a comfortable padded shoulder strap and it includes a detachable long webbed shoulder strap. There are five outer pockets, multi inner storage pockets, an insulated bottle holder and padded mat. The bottle holder is thermo-insulated to keep liquids warm/cool for up to 4 hours (time will vary depending on external temperature). Available in black, moss or berry.
Reviews
Reviews in chronological order (Total 1 comments)
Rating: 10.0 / 10

Geeta1, Mother of 2


22 Sep 2010 4:03pm


Stocksack bags are a god send, i invested in a Elizabeth Leather tan which has carried me through from short trips to the park, family fuctions, days out and even holidays abroad. Its handy compartments carter for everything from bottle/jar pouches, seperate nappy and wipe pockets, a changing mat and even a internal pouch for those keys we never end up finding in our chaotic bags, they have thought of everything- i salute you!