Slumbersac, Baby Sleeping Bag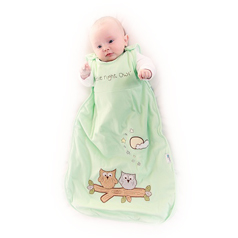 RRP: £16.99
Sizes: newborn, 0-6mths, 6-18mths, 12-36mths
Togs: 1.0, 2.5, 3.5
Visit Website

These 100% cotton sleeping bags are available in a variety of styles, age ranges and tog's to suit your growing baby through the seasons with sizes from birth to three years. The soft, pure cotton sleeping bags allow easy movement allowing baby to wriggle and sleep in comfort.
Sizes 0-3 months, 0-6 months, and 6-18 months have side zips and shoulder snap fastenings to allow fast, easy changing. Size 12 months - 3 years has a centre zip with a zip cover. The centre zip fastens from the bottom, which helps to prevent any escapes.
Slumbasac also give the option on having your sleeping bag personalised.
Rating: 10.0 / 10

Asyme, Mother of 1, London


20 Feb 2015 9:41pm




Mint Owl sleeping bag in 2.5 tog, 0-6 months.

I was pleasantly surprised when I received my sleeping bag, it has a nice finish, feels very well made and the 100% cotton material feels soft to touch, so I knew it would be gentle on my baby's skin. I chose the medium 2.5 tog, as I wanted one that would carry me through the spring and into the summer if necessary, but it's also cosy enough for the winter months, making it a good investment! There was definitely plenty of room for my boy to grow, he isn't a very large baby, and he has plenty of leg room so I hope that this will last him perhaps closer to the 1 year mark. I liked the fact that this bag had a zip fastening, as I had been advised that babies can kick their way out of the ones with poppers. My little boy is a bit of a wriggler so it was reassuring to know he wouldn't be able to wriggle his way out.

I chose this design as I liked the minty colour, but I found it was a recognisable colour for baby to know that it was time for bed. I haven't yet had to wash, but the fact that it can be tumble dried is great for me as there is always a lot of washing with a new baby! I would diffidently recommend to others, and buy a larger bag as my little boy grows.