Pregnancy
Shopping
Buyer's guide to lightweight pushchairs
Buggies, strollers and light pushchairs can often be used from birth or as a handy, cheaper option once your baby is too big for a pram.
Although most parents like to opt for a versatile pushchair and pram combination to use with their newborn, by six months they long for something lighter to carry around and fold. With many lightweight pushchairs suitable to use from birth, a good model can now be a smart option to see you all the way through from newborn to walking.
Pushchairs, buggies, strollers – what's the difference?
It depends on which store you are buying from, but some brands will refer to strollers when they just mean any light pushchair that can't be used from birth or that does not co-ordinate with a carrycot or infant carrier to turn into a travel system. Others will use the phrase buggy for anything, or pushchair for everything!
As a steer, a pushchair can mean the most basic or the most sophisticated set of wheels. The term 'buggy' or 'stroller' will usually mean something light, not so suitable for heavy everyday use but more for quick trips to the school gates, to take on holiday or to leave at the grandparents' house.
Lightweight pushchairs – advantages
The umbrella-fold of lightweight pushchairs (where it can 'concertina' down to a longer, thin shape) make them easier to store when space is limited at home or in your car. It also makes them easier to use on public transport.
Lightweight pushchairs can be easier to handle, useful for women of smaller build. From birth, a lighter option can be a real godsend for women who are recovering from a caesarean, where a pram might be twice the weight to move around. Toddlers often insist on being carried half way through a trip to the shops; being able to push a buggy rather than a larger pushchair can make all the difference when you only have one hand free.
Lightweights can be much cheaper than prams or combination pushchairs. However you do tend to get what you pay for – options under £75 are more likely to compromise on how many recline positions they have, or they might not have such good suspension and be limited to pavement use rather than walks over parkland. Lightweights over £130 are more likely to feature better suspension, good wheels and more comfortable padding for your baby.
They are more compact even when they are in use. If you are likely to be using your pushchair on buses, or when going round little shops and boutiques, a lightweight pushchair is going to be easier to manoeuvre. This can also help if you live somewhere with narrow doorways, restricted hallway space or a lift to flats.
Buying a lightweight – what to look for
See how heavy it is, how many recline positions and seat adjustments it comes with. Feel the wheels – hard ones will wear out more quickly and make the ride more bumpy for your baby and less comfortable for you. More expensive lightweights will have better quality wheels, useful for shock-absorption.
All lightweights should come with swivel wheels to make it easier to steer. If you want to use it with your new baby you MUST buy one that is 'suitable from birth'. Ones that are only suitable from three or six months will not have a completely lie-flat setting on the seat and this could mean your baby is not positioned in a safe manner.
When looking at the age range covered by various pushchairs, you'll see that many lightweights will only go up to 15kg – they are usually not sturdy enough to survive heavier children. The weight rather than the age of the child is given because children can grow at such different rates. However it is expected that by 2 to 3 years your child will be out of a pushchair altogether.
How easy is it to fold and carry? Most lightweights will have a carry handle on the side, but how easy to fold down is the model you're thinking about? You'll want to be able to fold it down with one hand when you're carrying your child, so make sure you pick one with a safe, easy folding system.
Lastly, whilst many prams and combinations have generous baskets, easy to use braking systems, matching accessories and features like an adjustable handlebar, lightweights usually offer slimmed-down extras. This doesn't have to be a problem, but do consider, for example, that if you and your partner want to push the baby and are very different heights, a fixed handlebar height might be a strain on your backs. Have a feel and think about that before buying.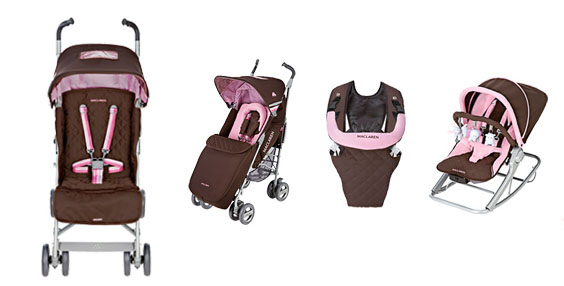 The Maclaren Techno XLR
www.maclarenbaby.com
Related Articles
Buyer's Guide to From-Birth Pushchairs
Maclaren create new Buggy Workouts
Bugaboo's Donkey rides into view
Business Profile: Lucie Trinco - Il Tutto
Mima pushchair: a new exclusive for John Lewis
Il Tutto unveil their summer collection
Don't get caught out after dark without your Buggi Lights
Related Products
Mamas and Papas, Primo Viaggio
Have Your Say
Be the first person to comment on this article, just post a comment below.