Baby
Shopping
iCandy cherry Special Edition
For summer 2010, iCandy's popular premium single pushchair/carrycot combination comes in classy traditional Brit colours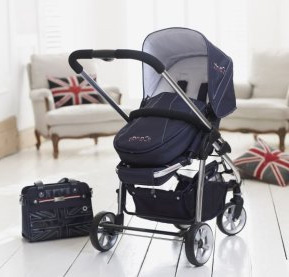 We've come a long way from the days when nannies in uniforms pushed posh babies around the park in prams bigger than the average 21st century city car, but the new iCandy cherry Special Edition would look great being wheeled around in high society! It fuses modern adaptability and lightweight design with classic colours and simple, elegant lines.
iCandy cherry Special Edition, £780
iCandy's cherry pushchair and carrycot combination extends an already popular option – the cherry is widely loved for its clever little details, it's light handling and the comfort it offers as a ride for baby and a push for parents – with a classic vintage look in navy blue fabric with a simple red and white line trim.
Pretty much all prams were blue and white 40 years ago, but now this retro feel to the cherry adds a tasteful switch away from the trend for bright garish colours in prams and buggies across so many brands in recent years.
Quality and quantity
At just under £800, the cherry is not a cheap option, but in the high-end pushchair market, it competes well with premium Mamas & Papas ranges and with the likes of Bugaboo.
For £780, the iCandy cherry Special Edition package includes the stroller, carrycot, changing bag, superfleece footmuff, parasol and raincovers for the seat unit and carrycot. There is also a clamp that can be used for holding a cup or for fitting the matching parasol.
The carrycot allows the cherry to be used from birth and comes with a padded mattress, plus it folds flat for storage. Also for use from birth, you can add an infant car seat (the adaptor is sold separately) for use when your young baby is not asleep or when you want to switch from car to pavement.
In its stroller format the cherry is suitable from 6 months and can be positioned forward- or rear-facing.


It's easy to fold and has a light, polished aluminium chassis. (It can be free-standing when it's folded which makes it a lot easier to store.) When you reduce it down to just the chassis and wheels it's a very manageable 5.4kg for lifting and travelling with.


The leg rest is adjustable, and the swivelling, fixed lockable front wheels make it easy to manage. The cushioned wheels are also sturdy so it's a confident push on many different surfaces and they are also specially designed so they are not susceptible to punctures.
RRP: £780

Weight: 10.2kg
(with carrycot), 7.9kg (with seat).
Folded cm: 88 x 59 x 25 (chassis with wheels)
Unfolded cm: 92 x 58 x 100 (chassis with wheels)
For more details, visit www.icandyuk.com

Related Articles
Buyer's guide to lightweight pushchairs
Buyer's Guide to From-Birth Pushchairs
Maclaren create new Buggy Workouts
Bugaboo's Donkey rides into view
Mima pushchair: a new exclusive for John Lewis
Don't get caught out after dark without your Buggi Lights
Related Products
Inglesina, Ingelsina Zippy Free
Have Your Say
Be the first person to comment on this article, just post a comment below.