Change
Current Location:
SW1W 8EL
Hauck, Zero Plus Comfort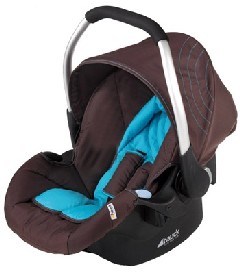 RRP: £99.99
Weight: 3kg
Group 0+: 0-15mths

This rear-facing car seat from Hauck is incredibly lightweight at 3kg with a specially shaped handle which helps you carry your baby from car to home comfortably. It also comes with the obvious padded harness and a baby head hugger. The fabric is removable and washable, and the car seat itself fits on the chassis of the Hauck Manhattan and Capri pushchairs making it into a unique travel system. It also fits onto an ISOFIX base (£69.99) if your car has the attachments - otherwise you can use the car seatbelt.
Reviews
Reviews in chronological order (Total 1 comments)
Rating: 9.0 / 10

slf1990, Mother of 3, Derbyshire


26 Nov 2011 5:49pm




With my first child i used a hauck newborn car seat, when i had my next we had to invest in another one so we got a Britax it was £100.00 and it was worth it. With each growing step your child makes it customises their needs to their constant growing, overall i was very happy with it.