3-5
Shopping
Mima pushchair: a new exclusive for John Lewis
Style conscious parents will love this new urban pushchair brand launched this week as an "exclusive" at John Lewis. Designer Davy Kho has introduced a new fluid chassis shape, opted to use completely new material for the seat and carrycot units, and this combination will transform pushchair design for the next 10 years.
It is interesting that despite the decline of the space program and the end of NASA that their essence can now be seen in all works of life, including high-end transport for babies and toddlers, seen this week at the launch of Mima, a new pushchair brand.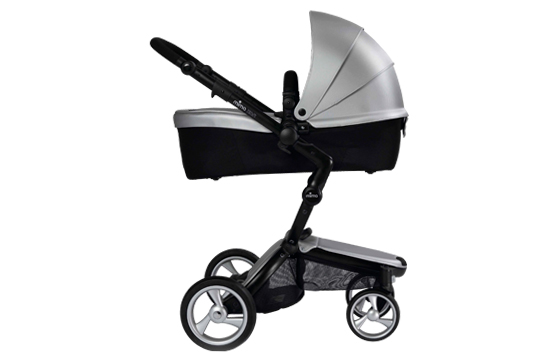 These designs are brought to you by a visionary designer, Davy Kho, who saw a gap in the market for products that not only innovated but mixed emotion and creativity. Born in Holland, this father of two, accredits his influences to Spanish architecture, however it would be easy to draw more influences from German Expressionism with its ultramodern style,
The Mima Xari (single) and Mima Kobi (double) offer simple ways to solve parenting problems; the EVA fabric provides a firm but supple supportive seat and can be wiped clean; the cocoon pod, which houses a carrycot zipped into its base, offers three recline positions as well as switching between forward or parent facing. The Kobi offers five different unit options for parents with twins or baby an toddler (ie two carrycots, two seat units, one of each or the carrycot with car seat).
All of this is aided by using Davy's unique L shaped, aluminium chassis which highlights the innovation of this exceptional pushchair. If the Mima pushchairs were to fall from grace it would be via the lack of shopping basket space and just two colour options, which may be a concern for those true fashion fanatics.
The Mima designs are clearly aimed at a high demographic with both products in the top price bracket for pushchairs in this category, £850 for the Kobi and £950 for the Xari.
Both pushchairs are suitable for babies from newborn to 17kg and although both vary in the statistics this is by no great margin, the Xari: length 87cm, width 61cm, height 97cm, whilst the Xobi offers: length 103cm, width 63cm and a height of 109cm.
Simon Russell the Managing Director of Cheeky Rascals, the exclusive UK distribution, says that 'in pushchair design, as with car design, every few years a model comes along that is truly category defining'. For those design conscious mothers with a keen sense of style who want to keep one step ahead, this could be the option.
Related Articles
Preparing Premature Infants for School
Maclaren create new Buggy Workouts
Interactive Reading App for Toddlers
Safety advice for bonfire night
Christmas Baby Toys.. soft toys
Related Products
Boys&Girls, baby and childrens clothing
Have Your Say
Be the first person to comment on this article, just post a comment below.