Toddler
Parties
Halloween for under-3s
Ideas for having some spooky party fun without getting too scary!
Babies might not be quite ready for celebrating Halloween, but they can still join in the fun, especially if they have older brothers and sisters who are planning a sweetie-fest come October 31.
Halloween costumes for babies and toddlers
The pumpkin is a popular theme for Halloween costumes at this age – and with a loveable round orange body and cute green hat, who can resist?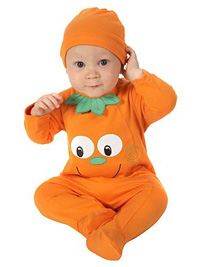 Asda's Pumpkin Babysuit (£6) is a regular cotton all-in-one themed to the occasion with appliqué details and shoulder and leg popper fastenings. asda.com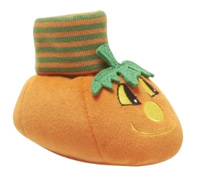 Mothercare has a selection of small-sized Halloween outfits but we especially love their Pumpkin Baggy soft shoes (£8), available in four sizes from birth to 12 months. For older siblings their Pumpkin Tabard comes with a hat and in sizes 2 to 7 years), £8. www.mothercare.com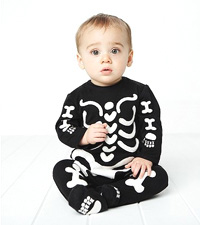 Mamas & Papas can always be relied upon to offer some seasonal cuties. As well as a classy black and white witches three-piece (£20) and a baggy black and orange velour pumpkin one-piece with matching hat (£18), they have a black and white skeleton cotton one-piece (six sizes from newborn to 23 months). www.mamasandpapas.com
Halloween party ideas
Babies and toddlers won't be guzzling pizza and fizzy drinks, but they might enjoy their usual favourite foods served up on a spooky plate!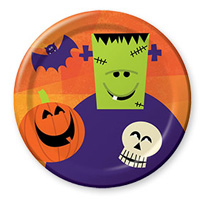 Party Ark has wonderful costumes, tableware and games for older children (skulls, monsters and some frighteningly fiery pumpkins included), but their Boo Bash Party plates, cups and other tableware is perfect for little ones too – it's bright and simple designs won't seem too spooky, yet older children won't think it too babyish to eat pizza off… Small plates £2.69 for 8, napkins £2.39 for 18, tablecover £3.69. www.partyark.co.uk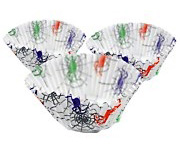 Woolworths online also stocks an array of themed partywear for Halloween, including mini plastic food trays in pumpkin, cake, skull and ghost shapes £1.99/4 assorted. We also like their Halloween cake cases £1.99 for 50, and their decorative card cutouts (choose between mildy spooky or jeepers creepers!) £2-£4. www.woolworth.co.uk
John Lewis is selling all manner of spooky party accessories. For little ones who don't mind masks there are the foam John Lewis Halloween Masks (£2 each), which are light and easy to put on and take off. Or the John Lewis Pumpkin Bag, a beautiful simple, felt pumpkin bag £2.75 to stash a few infant-friendly treats or just to fill with bits from round the house like usual (dolls, mummy's car keys etc). www.johnlewis.com
Halloween for babies and toddlers
Unless your baby loves to party, this isn't the most essential event in your calendar, but if older siblings are getting into the spirit of things and children are knocking at the door every five minutes trick-or-treating, you can turn the whole occasion into a little fun.
Remember that some small children don't like masks, make-up or even wigs and if you dress up or a brother or sister is in costume, tentatively see if it goes down well. If not, take it off.
If you don't want lots of children knocking on your door every five minutes (especially at baby's bath time or bedtime), don't hang out Halloween decorations visible from the street and they should get the message!
Related Articles
Preparing Premature Infants for School
Mima pushchair: a new exclusive for John Lewis
Eleven Excellent Halloween Trips For Children
Interactive Reading App for Toddlers
Safety advice for bonfire night
Colchester Zoo named UK's favourite
Christmas Baby Toys.. soft toys
First Aid courses from an award winning London based company
Related Products
Vital Baby, Nurture breast-like feeding bottle
Have Your Say
Comments in chronological order (Total 1 comments)