3-5
Days Out
The Illustration Cupboard
This unique gallery is dedicated to the artists working in children's literature – a magical place to visit. You can even buy an original classic if you want to.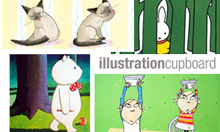 Tucked away in an unlikely corner behind Piccadilly, central London, The Illustration Cupboard looks like any other upmarket private gallery where the casual visitor can look at the walls and those with cash to splash can take some of the works home with them.
However, there are two big differences here…
First, the artworks are all original pieces from children's literature – special exhibitions and regular stock include all the biggest names in children's picture book illustration, and the gallery also supports more quirky upcoming talent.
Secondly, unlike hushed commercial galleries where even the adult visitors are worried someone is going to charge them £1000 just to look at a new piece of art, at The Illustration Cupboard, founder John Huddy's enthusiasm rubs off on the families and other visitors who are always welcome to visit and just gaze at what's on the walls for free.
From Dick Bruna (Miffy) and Shirley Hughes (Alfie), to newer talents like Simon Bartram (Man on the Moon, A Day in the Life of Bob), the gallery organises special exhibitions as well as selling original artwork by these great talents.
See for yourself
Whether you live in London or are visiting the capital, The Illustration Cupboard is a fabulous place to pop in to.
The Illustration Cupboard, 22 Bury St, London, SW1Y 6AL
Tel: 020 7976 1727
Open Monday to Friday,10am-6pm; and Saturday 12noon-5pm.
Or go to their website to see what they have on, browse the beautiful collection of images, and if you have some money to invest (to mark a special occasion like a first birthday, for example) you can even buy pieces online at www.illustrationcupboard.com

Related Articles
Preparing Premature Infants for School
The Pudding Club Maternity Hire
Business profile: Sally Robertson – Organic at Heart
Christmas Toddler Toys.. arts and crafts
Funky Party, food ideas kids will love
The Beauty and Curiosity of The Bump
Related Products
Have Your Say
Be the first person to comment on this article, just post a comment below.