Change
Current Location:
SW1W 8EL
Hauck, Turnaround 3 in 1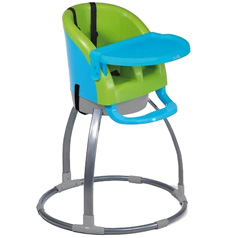 RRP: £59.99
Easy to use: 3/5
Easy to store: 2/5
Easy to clean: 3/5
Visit Website

This light, space-age chair is fun and flexible. The top of the chair can swivel 360 degrees to enable you to feed your child at the table or from another chair without having to lug it around the kitchen. Also, the top of the chair can be detached from its legs and used as a booster seat when you're away or going out for the day, which is very smart.
Additionally, the play and food tray can be removed so you can use the chair at the main table, and easily wash the tray whenever you want.
Reviews
Be the first person to review this product, just add a review below.