3-5
Business Profile
Business profile: Pink Lining
Having their first child inspired Charlotte and Rufus Pearl to take their handbag business into the baby changing market.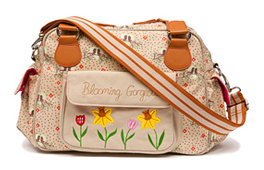 Charlotte Pearl's first foray into handbag design came when she saw a to-die-for bag she wanted for a party. Claiming that she could make one for a fraction of the price, her boyfriend (now husband, Rufus) challenged her to have a go. This year the couple celebrate their tenth year in business as Pink Lining. Since 2005 Pink Lining has blossomed into one of the country's most successful and striking changing bag brands. Here we speak to Charlotte Pearl.
What did you do before launching Pink Lining?
I was in fashion PR and then at publishers Condé Nast. It was a good background to gain insight into how the fashion seasons work.
How did Pink Lining happen?
When friends of mine saw the bag I'd made for myself, I started getting requests from them. Friends could commission the appliqué design of their choice. I was in a boutique and someone told me that they thought I could get them into stores, so I put together my own press release mail-out, did a few photographs and straight away I got great feedback from Harrods, Vogue and Tatler all in the same month.
At first it was handbags but now you make changing bags and related nursery items. Why did you make that transition?
When I had my daughter, Amelia, it was natural to make a changing bag. I based what I designed very much on my own experience of what I needed as a mother. There are so many wonderful elements of being a mother, but there are also moments of drudgery, and I thought, why not have something that brings cheer, and that's feminine.

Did you find moving into the changing bag market very different from fashion handbags?
Yes, it's different people entirely. John Lewis really launched us into the baby market on a big scale. It's a lovely industry to work within, and you feel quite proud that you're making something that really does help other mothers. We decided to launch full-on into the maternity market so we do changing bags and other related ranges are niche – bags for little girls, nursery goods. It's an exciting domain, and the challenge is to bring together fun, fashion and function.
You have three children now, how has it been running the company as a young mother?
I was doing the first designs in our basement flat when Amelia was a few days old. I remember we'd be going down to the storage unit to tag bags and I would be trying to get it done whilst taking breaks to breastfeed. We have a mish-mash of childcare, including my mother! But I like to be around for the children – they're only young for so long. And being in this industry, it would be bizarre to waste this time with them. But one of the great things about working for yourself is that up to a point you can manipulate the hours, working at night. If you're going to do this, you've got to be passionate about what you do, to keep you going through the long hours you have to put in.
What have been the highlights in 10 years of Pink Lining?
There are so many highlights. Getting the first samples to Harrods, being able to deliver to them on time and then selling 95% of what we'd supplied by the second day. Awards are lovely too – getting critical acclaim for something you work so hard on and really believe in.

How big is the Pink Lining team?
There are seven of us now. We've recently moved to a new office, in Notting Hill. It's a really nice area right where we are, with other small businesses. And we all get on really well.
What is next for Pink Lining?
Our Rosebud London range is doing well in Mothercare and we are about to go into another major store. And this summer we're going to uproot the whole family and spend about eight weeks in Califormia, meeting contacts we've already made, and going to trade shows. As the owners and directors of the company Rufus and I feel we need to be there as Pink Lining branches out into the US.
Related Products
Verbaudet, French maternity, baby and children's clothing
Related Forum Topics
Forum: 3-5yrs
Have Your Say
Be the first person to comment on this article, just post a comment below.