Change
Current Location:
SW1W 8EL
Purepotions, Skin Salvation Bath Oil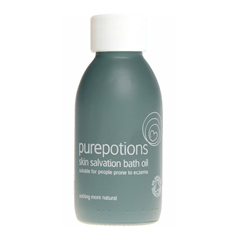 RRP: £8.99

Skin Salvation Bath Oil acts as a replacement for a regular bath emollient, specially formulated to give protection and deliver moisture to sore skin during bathing.
Also suitable for those prone to eczema, psoriasis, dermatitis and itchy scalp.
Reduces the drying effects of water.
Replaces the need for perfumed foaming additives and soaps.
Suitable for all ages.
Free from petrochemicals, parabens and preservatives.
Also suitable for dry itchy scalps.
100% natural.
*The bath oil can be used as a deeply moisturising scalp oil for a dry, itchy scalp. The oil should be applied directly to the scalp, left overnight (use a towel to cover your pillow as the oil can stain) and washed out with a gentle SLS free shampoo in the morning.
Reviews
Be the first person to review this product, just add a review below.
Quick Links:
,
Baby perfumes
,
Baby Wipes
,
Balms
,
Bathing
,
First Aid
,
Moisturisers
,
Nappy Creams
,
Pregnancy Stretch Creams & Oils
,
Sanitisers
,
Sun lotion