Toddler
Books/DVD's
New books published: June 2012
Very young children will love the tactile book The Big Out and About Book with it's fuzzy sheep, it's perfect for helping your little ones begin to recognise every day images. For slightly older children The Queen's Knickers has been republished in time for the Jubilee this weekend. This funny story will make your little ones giggle.
Baby
By Georgie Birkett
Published by Red Fox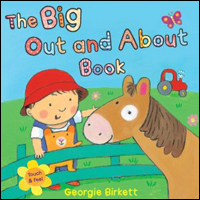 ISBN 9781849411295
RRP £5.99

Very young children will enjoy the simple, rhyming text as baby says 'hello' to the objects he sees as he ventures outdoor and down the farm for a picnic. 'Hello tractor, hello sheep, and little chicks go cheep, cheep, cheep'.
The tactile, touch and feel elements including fuzzy sheep, sparkling sun and fluffy horse's mane, will also maintain their interest.
The charm and appeal of this sturdy board book is the simple journey made by a recognisable child, and the bold everyday images that young children will enjoy recognising and beginning to name.
Toddler
By Lucy Cousins
Published by Walker Books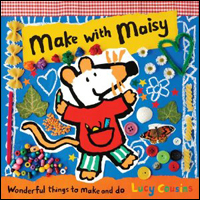 ISBN 9781406339659
RRP £9.99

This exuberant and colourful guide to 'making' will keep young children engaged for hours. There are loads of ideas, beautifully presented and made all the more appealing by the appearance of Maisy herself.

Feathers, buttons, beans and ribbons are among her materials as Maisy sets to work making box houses, blossom trees, useful pots and vegetable prints – and so much more.

Maisy and her friends illustrate each of the spreads, showing her in the act of making or using each of these special ideas.

Best of all it's not just toddlers who will be thrilled and entertained by these ideas – any child will enjoy getting stuck in and making!



3 - 5 years

By Nicholas Allan
Published by Red Fox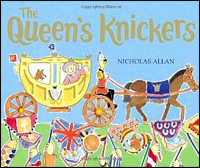 ISBN 978-0099413141
RRP £5.99
Republished to tie in with the Queen's Jubilee, The Queen's Knickers provides a funny, warm and irreverent look at what might be going on under the queen's usual wardrobe.

Just what kinds of knickers might the Queen be wearing when she carries out her royal duties? In particular, a little girl wonders what knickers Her Majesty will choose to wear when she visits the school? Will they be her 'at home' knickers - adorned with corgis - or her 'garden party' knickers, or perhaps her woolly Balmoral ones...?

Look out for lost of cheeky humour, and some very special queenly knickers!
For more information on ReadingZone please visit www.readingzone.com
Related Articles
ReadingZone: best new books published in October
ReadingZone: The best new books February 2011
ReadingZone: The best new books January 2011
ReadingZone: The best new books March 2011
ReadingZone: The best new books April 2011
Our pick of children's books for October
Christmas Toddler Toys.. books
Christmas books published: December 2011
New books published: January 2012
Have Your Say
Be the first person to comment on this article, just post a comment below.