3-5
Books/DVD's
Christmas books published: December 2011
New releases this month have a very festive feel. Baby's First Christmas Lullabies is beautifully illustrated, and comes complete with a cd full of festive tunes, while Mouse's Christmas Wish is a lovely heart warming story, perfect for this time of year.
Baby
By Fiona Watt and Elena Temporin
Published by Usborne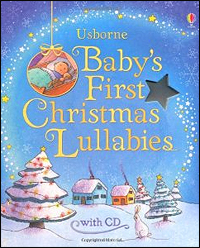 ISBN 9781409538462
RRP £9.99

This beautifully colourful board book makes a gorgeous Christmas gift. The sturdy pages each includes the words of traditional carols and songs including Away in a Manger, I Saw Three Ships, In the Bleak Midwinter and How Far is it to Bethlehem?

The CD also includes a medley of other seasonal, classical tunes such as O Little One Sweet (JS Bach) and Vivaldi's Winter.

Each page is simply but distinctively illustrated and, with the accompanying CD, this is a perfect gift for very young children – and one that parents will also enjoy.
Toddler
By Nicholas Allan
Published by Hutchinson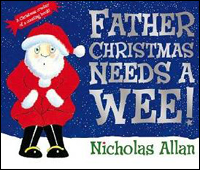 ISBN 9780857540041
RRP £4.99

It's good to see this funny and seasonal counting book made available in a smaller format that is perfect for toddlers and younger children.

It is also a subject that young (and older) children can identify with – Father Christmas needs a wee as he's been 'drinking drinks since half past three' when his annual delivery round began. The humour is fuelled by images of an increasingly frantic, cross-legged Santa.

Each house offers a number of drinks ('At number 3, three cups of tea. At number 4, he'd had four more!') and so on until he reaches number 10 – and realises that in his rush, he's forgotten to leave the presents behind!

The illustrations are simple but fun and children will enjoy following the counting game – and wondering just when and how Father Christmas will find the loo!



3 - 5 years

By Judi Abbot
Published by Corgi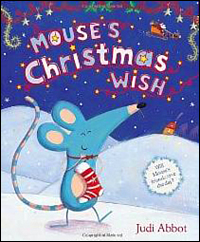 ISBN 9780552563246
RRP £5.99
This story has a special message about the importance of friendship and sharing, perfectly wrapped up in a sparkly, seasonal cover. If you are looking for a stocking-filler with a warm Christmas message, this will tick all the boxes.

Rabbit decides to invite all her friends – Duck, Bear, Dog, Mole and Mouse – to stay with her for Christmas. Mouse goes into a frenzy of activity to get ready to go, while the other animals set off at a leisurely pace on their journeys to Rabbit's house.

After a number of mishaps, Mouse decides it is safer to stay at home in bed – but Rabbit's guests soon arrive to change his mind and there is a funny twist in the final pages, too.

The snowy scenes, frosty forests and a glimpse of Santa at the end all help deliver the message that Christmas is just around the corner – and the best way to spend it is with those you love.
For more information on ReadingZone please visit www.readingzone.com
Related Articles
ReadingZone: best new books published in October
ReadingZone: The best new books February 2011
ReadingZone: The best new books January 2011
ReadingZone: The best new books March 2011
ReadingZone: The best new books April 2011
Our pick of children's books for October
Christmas Toddler Toys.. books
New books published: January 2012
Related Forum Topics
Forums: 3-5yrs
Have Your Say
Be the first person to comment on this article, just post a comment below.