3-5
Books/DVD's
ReadingZone: The best new books April 2011
This spring ReadingZone reviews each month's top new titles for babies, toddlers and 3-5yr olds.
Baby
By Janet & Allan Ahlberg
Published by Puffin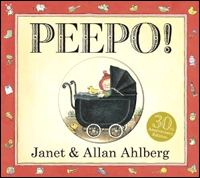 ISBN 9780141337425

This is a special anniversary edition of the classic story that has enthralled countless babies and toddlers over the past 30 years. Peepo! is a simple story, told in verse, that follows a baby through its day, from breakfast to bathing and bed time.

On each page, a small cut out circle allows the child reader an enticing glimpse of the next page.

It's a simple idea that is beautifully packaged. The illustrations, which are set in the 1940s, are nostalgic and detailed. The verse often refers to objects hidden in the illustration so that a growing child can revisit the board book as they get older to explore the images.

This makes a beautiful gift and a wonderful early introduction to the world of stories.
Toddler
By Axel Scheffler
Published by Nosy Crow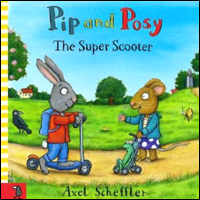 ISBN 9780857630056


The illustrations in this story might seem familiar if your child is a fan of The Gruffalo – Axel Scheffler, who created the Pip and Posy books, is also The Gruffalo's illustrator.

In the Pip and Posy stories, Scheffler wanted to explore the world of toddlers and each story describes a recognisable toddler experience, based on his own child's early years.

In The Super Scooter, Posy is desperate to try out Pip's new scooter without realising that riding a scooter isn't as easy as it looks. She take's Pip's scooter without asking and soon comes a cropper before being helped by Pip.

If your child enjoys this story, they might also like Pip and Posy and the Little Puddle by Scheffler, when Pip is having such a lovely time that he forgets to go to the loo.
3 - 5 years

By Caryl Hart, Ed Eaves
Published by Simon & Schuster
ISBN 9781847385949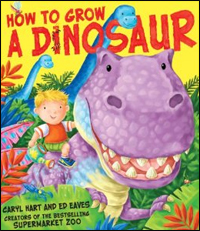 Think gardening is boring? Then think again! Weeding and digging will never seem the same after you've read this brilliant story about dinosaurs, jungles and jellybean trees!

The sun is shining, it's a gorgeous day and the last thing Albie wants to do is help his mum digging a vegetable patch. However, Mum promises the seeds she gives him will grow into something really exciting and sure enough, the next morning the garden has turned into a jungle! Albie's seeds have grown into a prehistoric landscape – complete with a hungry Tyrannosaurus Rex or two!

What other exciting things have sprouted overnight? And what else has she got planned for the vegetable patch?

A brilliant story that begins with the everyday and turns into something fantastic. See how many dinosaurs you can spot lurking behind the bushes…
Related Articles
ReadingZone: best new books published in October
ReadingZone: The best new books February 2011
ReadingZone: The best new books January 2011
ReadingZone: The best new books March 2011
Our pick of children's books for October
Christmas books published: December 2011
New books published: January 2012
New books published: February 2012
Related Forum Topics
Forums: 3-5yrs
Have Your Say
Be the first person to comment on this article, just post a comment below.