Pregnancy
Shopping
Snugabub Baby Sheets
An Australian mum of 3, Alison Dique, has launched an innovative baby sheet which finally addresses the FSIDs recommendations of "feet to foot".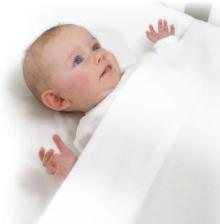 The Snugabub baby sheet provides an immediate solution to the problem of having too much sheet when tucking in a newborn to a full- sized cot. The FSIDs recommendation of placing your baby at the foot end of the bed has become much easier with this half-fitted, half-flat sheet invention. Here's a YouTube video to show you how it works.
The sheet is available from www.hippychick.com and comes in 3 different sizes: 0-6 months, 6-12 months and 12-24 months.
Related Products
Have Your Say
Be the first person to comment on this article, just post a comment below.