Pregnancy
Books/DVD's
ReadingZone: The best new books January 2011
The New Year welcomes three lovely new books for babies and toddlers.
Baby
By Rebecca Elgar
Published by Campbell Books Ltd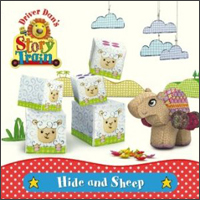 ISBN 9780230753501

In this story, Precious is playing hide and seek with Hip and Hop, but the bell on her tail keeps giving her away. Hip, one of the rabbit twins, has the same problem with her long ears!
Luckily, the Counting Sheep are around to show them how it's done. "Driver Dan's Story Train" is a brilliant new CBeebies television series perfectly pitched for the pre-school audience.
Visually distinctive, it features a whole cast of endearing animated characters, each with their own personalised carriage on the Story Train driven by Driver Dan. Already a big hit with parents and children, the series is set to become a classic.
Toddler
By Chloe Inkpen
Published by Macmillan Children's Books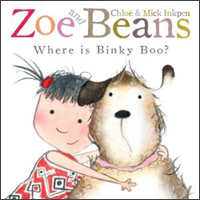 ISBN 9780230748453

Zoe loves her doll Molly, but so does her dog, Beans. It's become a bit of a problem. And it all began when Beans lost his favourite toy, Binky Boo.
Will Zoe and Beans ever find him? Let's hope so, because Beans won't give up the doll until they do, and poor Molly isn't meant to be a dog's toy. She's getting very stinky!
Join the loveably lively Zoe and her devoted dog Beans in a world full of fun, friendship and magical adventures.
3 - 5 years

By Diane Fox
Published by Macmillan Children's Books
ISBN 9780230747616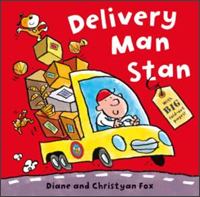 This action-packed book is full of all sorts of delivery vehicles, from vans and motorbikes to an aeroplane and even a space rocket!
Children will love opening the big gatefold pages up, out and every which way to follow Stan and his trusty canine sidekick Boxer through their busy day of delivering parcels.
Bright, bold artwork, jolly rhyming text and an ever-popular theme make this a book sure to appeal to boys and girls alike.
Related Articles
ReadingZone: best new books published in October
ReadingZone: The best new books February 2011
ReadingZone: The best new books March 2011
ReadingZone: The best new books April 2011
Our pick of children's books for October
Christmas books published: December 2011
New books published: January 2012
New books published: February 2012
Have Your Say
Be the first person to comment on this article, just post a comment below.