Baby
Shopping
Great value babywear starter packs
With vests, sleepsuits and other new baby essentials, there are some good-looking outfit starter packs that offer you an instant wardrobe for your little one.
Whether you have already been swooping in on gorgeous baby dresses or boyish dungarees, or you're swimming in baby shower gifts of sweet little outfits in unisex creams and greens, one thing you're going to get the most use out of is a good set of baby vests and sleepsuits.
On a good day you might use two of each, but on days when nappies leak or your baby possets after a feed, you can work your way through at least three or four vests and sleepsuits, and, even if you have the inclination, you rarely have the energy to get the laundry sorted seven days a week! Here's where a good quality but no-nonsense set of babywear essentials really comes in handy.

Five great-value babywear sets
Woolworths has useful baby sets in sizes from newborn to 12-18months. The online store's unisex white 15-piece set consists of five long-sleeve sleepsuits, five short-sleeve bodysuits (vests) and five bibs, which feature a small, subtle mouse mofit, £15.
The girl's and boy's 15-piece sets feature the same contents but in a variety of delicate pink or blue and white patterns to mix and match, £24.
Woolworths also has sets of 10 pairs of baby boy or baby girl socks for £8 per set.
www.woolworths.co.uk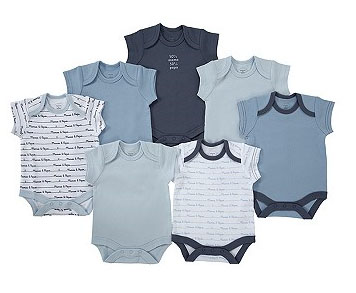 Mamas & Papas is well-known for its special ranges of new baby clothes – like the delicate 'Welcome to the World' range of sleepsuits and cardigans in gentle shades of cream and browns. However, the new Baby Basics range gives you a burst of colour in a wonderful selection of vests, sleepsuits and footless sleepwear. Some are sloganed, others come in jolly patterns or rich blocks of colour – all are lovely either matched with other clothes over the top or just on their own, when your baby wants to be more free and easy at home.
The Baby Basics range can be bought as a selection of single items or in Basics packs, ranging from £8 to £15 for one- or two-piece sets up to packs featuring seven items. There are also boy and girl sets as well as neutral sets included in the range.
www.mamasandpapas.com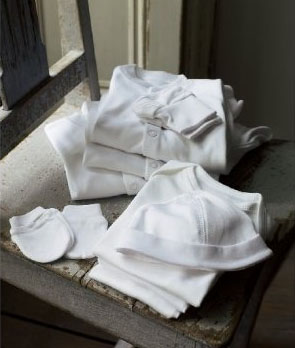 Mothercare's range of newborn basics focuses on specific items – a handy seven-pack of short- or long-sleeve bodysuits (vests) come in delicate neutrals with giraffe or elephant motifs, £11.50-£12.50. The 10-piece unisex starter in a simple white includes three sleepsuits, three vests, a hat and mittens for £15, but it lacks the zing of the black and white long-sleeve vest pack (seven for £12.50-£13.50), or the warmth of the three-pack set of Unisex Farm Sleepsuits (£13.50-£14.50) which offers a trio of coordinating sleepsuits in appealing pale greens, reds and oranges.
Sets of five pairs of new baby socks in gentle pastel shades are £4-£5.
www.mothercare.com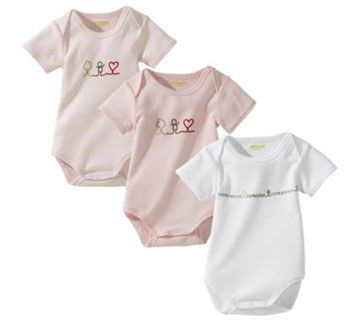 French company Vertbaudet always offers stylish baby and child clothing that's a little outside the usual high street look via their online UK presence. The Happy Price set of seven short-sleeve vests come with the days of the week in French, to add a little Euro chic to your nursery, £23. The three-pack set of sleepsuits ranges from newborn to 3 years and comes in three coordinating patterns in blues or pinks, £12.
www.vertbaudet.co.uk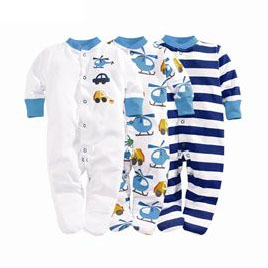 Next, sadly, doesn't do a one-stop baby set, but the quality of the cotton clothing and the rich, jolly colours will have you scooping up the three-pack sets of sleepsuits (£12-£14) in a range of designs for boys and girls. Next's charming Bears Sleepsuits set features turn-over scratch mitts on sizes up to six months, and the short-sleeve body suits (vests) in boyish and girly tones (£7-£8) look good as tops in warmer weather or as undergarments with other layers.
The store also stocks five-pair sets of socks in a variety of designs for £5.
www.next.co.uk

Related Products
Petite Star, Tangerine Circles
Have Your Say
Be the first person to comment on this article, just post a comment below.