Baby
Books/DVD's
New books published: April 2012
Spring has most definitely sprung, so cheer your little ones this month with our spring inspired books including Sometimes I Feel Sunny, which helps to explain feelings to your toddler, and Six Little Chicks, which is also perfect for Easter.
Baby
By Emma Dodd
Published by Templar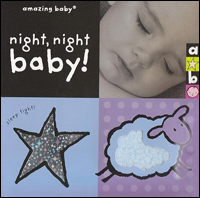 ISBN 9781904513964
RRP £9.99

A combination of photography, stylish and bold graphics and gorgeous colours has ensured the Amazing Baby books from Templar have made their mark. The series is now ten years old and has been given a refreshed look.

This new cloth book in the series, for babies aged six months plus, makes a perfect gift for very young children. Stars and moons decorate the pages and remind baby it's time for bed.

Babies will love the bold shapes and graphics in these pages, and the high contrast images. As babies are always drawn to images of other babies, the images of babies sleeping – both in graphics and photography – also give just the right touch.
Toddler
By Gillian Shields & Georgie Birkett
Published by Corgi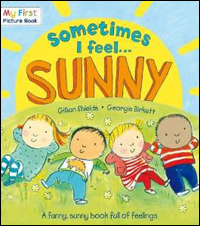 ISBN 9780552565783
RRP £5.99

This 'funny, sunny book full of feelings' helps children to navigate the world of feelings and is a useful and visual early introduction to emotions.

'Sometimes I feel sunny like a great big smiling sun,
Sometimes I feel sad, as though nothing will be fun.'

Funny, crazy and clownish or angry, sad and frightened are among the feelings that the young children in these pages explore, showing that grumpy days and sunny days are all part of life and it's fine to feel strong emotions.

The 'My First Picture Book' series from Corgi introduces children to a range of different experiences. Other books in the series include Bigger Digger and A Quiet Day in the Jungle.



3 - 5 years

By Jez Alborough
Published by Doubleday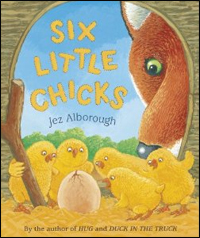 ISBN 9780857072573
RRP £10.99
With echoes of the classic Little Red Hen, this picture book about five plucky chicks outsmarting the cunning fox is bound to become a favourite with very small children – and it is perfectly times for Easter.

Jez Alborough, the author and illustrator, is well known for his popular series such as 'Duck in the Truck' and 'Hug'.

In this story, mother hen becomes increasingly frantic about protecting her five young chicks as fox is on the prowl. The chicks, meanwhile, are busy cheeping, pecking, flapping and hopping, unperturbed by the threat of fox – until they come face to face with him; but he proves no match for their ingenuity.

Children will love the rhyming text and especially the repeated refrain of the little chicks, and the ending which sees the chicks win through – just in time for chick number six to hatch.
For more information on ReadingZone please visit www.readingzone.com
Related Articles
ReadingZone: best new books published in October
ReadingZone: The best new books February 2011
ReadingZone: The best new books January 2011
ReadingZone: The best new books March 2011
ReadingZone: The best new books April 2011
Our pick of children's books for October
Christmas Toddler Toys.. books
Christmas books published: December 2011
New books published: January 2012
Related Forum Topics
Forums: Baby
Have Your Say
Be the first person to comment on this article, just post a comment below.