3-5
Books/DVD's
New Books for October 2013
We have some tactile books this month for little ones with the soft and colourful Lorries and Buses and the pop-up and tab book Hungry or Not, Mr Croc? While Sugarlump and the Unicorn follows the story of a little rocking horse whose wishes come true.
Baby
Sticky Storybooks

By Karen Wallace
Published by Hodder Children's Books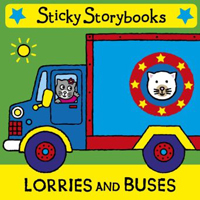 ISBN: 9781444908251
£6.99
Lorries and Buses is one of four new soft books in this series that are filled with favourite vehicles to spot. Other books in the series include Diggers and Dumpers, Planes and Jets and Cars and Trains.
Each little book is presented in vibrant colours and patterns and with appealing characters. The bold patterns are perfect for very young children and they can be encouraged to join in the sounds of a 'brrm, brrm car' and a 'beep beep bus'.
The books also come with a handy strap and a useful sticky pad that can be stuck to a variety of surfaces including car windows, tables and high chairs, making it the books ideal for when you and your little one are 'on the go'.
www.readingzone.com
Toddler
Hungry or Not, Mr Croc?

By Jo Lodge
Published by Hodder Children's Books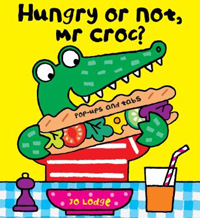 ISBN: 9781444915846
£6.99
The Mr Croc books are a firm favourite in our household. We love the bright colours, sturdy tabs and innovative novelties, as well as Mr Croc himself who likes to deliver a few surprises.
In this story, Mr Croc is very hungry indeed so to satisfy his rumbling tummy he crunches his way through some cornflakes, slurps on some spaghetti and gobbles up his icecream. But Mr Croc is STILL hungry, so what should he do?
This is one of a range of Mr Croc titles including Ready or Not, Mr Croc, Sleepy or Not, Mr Croc and Scared or Not, Mr Croc?, each of which delivers an expressive story based on themes that explore toddlers' early experiences.
3 - 5 years

Sugarlump and the Unicorn

By Julia Donaldson, Lydia Monks
ISBN : 9780230769885
£6.99
A little rocking horse is the star of the latest title from bestselling Julia Donaldson.
When the rocking horse decides that he'd prefer to be outside trotting along the roads and fields, with a swirl of magic from the unicorn, that's where he finds himself. But he soon realises that pulling carts is hard work - he would rather be a race horse, and then a circus horse - but what life would be best for this little horse?
Donaldson once again delivers a beautifully-told story in addictive verse, especially its repeated refrain of the very sparkly magical unicorn - 'Seven times she turned around and- the unicorn's wish came true!'
For more information on ReadingZone please visit www.readingzone.com
Related Articles
ReadingZone: best new books published in October
ReadingZone: The best new books February 2011
ReadingZone: The best new books January 2011
ReadingZone: The best new books March 2011
ReadingZone: The best new books April 2011
Our pick of children's books for October
Christmas Toddler Toys.. books
Christmas books published: December 2011
New books published: January 2012
Related Forum Topics
Forums: 3-5yrs
Have Your Say
Be the first person to comment on this article, just post a comment below.