3-5
Books/DVD's
New Books Published: October 2012
This month we have another book in the popular 'That's Not My.." range with That's Not My Panda, and babies will love the touchy-feely pages. There is also a new title from father and daughter Chloe and Mick Inkpen with Zoe and Beans: Hello Oscar.
Baby
That's Not My Panda
By Fiona Watt & Rachel Wells
Published by Usborne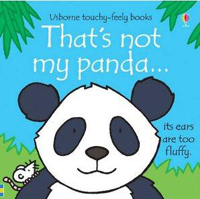 ISBN: 9781409549833
£5.99
This is a new title in the award-winning "That's Not My..." series - its sales to date stand at ten million copies worldwide.
Each page in 'That's Not My Panda' has touchy-feely elements, which babies and young children love exploring. They are introduced to five pandas and each one has something different for little fingers to feel.
The colourful illustrations, along with the familiar mouse, the repetitive text and the tactile touchy-feely patches make these books very appealing while the textural patches and the descriptive words are specially chosen to develop babies' and toddlers' sensory and language development. And don't forget to spot the mouse on every page!
Toddler
Zoe and Beans: Hello Oscar

By Chloe and Mick Inkpen
Published by Macmillan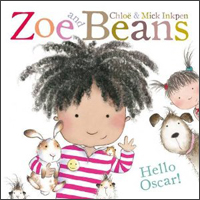 ISBN : 9780230763685
£10.99
The Zoe and Beans books, by father and daughter duo Mick Inkpen (creator of the 'Kipper' books) and Chloe Inkpen, are hugely appealing to young children with their simple stories and gorgeously expressive and funny illustrations. In this story, Zoe discovers lots of animals and makes a new friend.
Beans the dog is Zoe's best friend and one day, he discovers something exciting at the bottom of the garden. It's a guinea pig, so Beans and Zoe go off to find it something to eat. When they come back, they find a tortoise, a chameleon and a parrot have also appeared.
Where can all these animals have come from? And where has Beans disappeared to? Perhaps the hole in the fence has something to do with it?
Children will love the funny details in the illustrations, like the chameleon changing colour to match Zoe's dress and the animals' surprise when the parrot begins to talk.
3 - 5 years

Hippostapamus

By Jeanne Willis & Tony Ross
Published by Andersen Press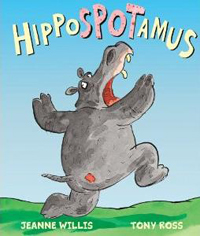 ISBN : 9781849394031
£10.99
The fabulous duo Jeanne Willis and Tony Ross are back with this hilarious story about jungle creatures trying to solve the puzzle of Hippopotamus who has discovered a 'spotamus on her bottomus' – and it's bright red! What can she do about it?

Luckily for Hippo, the other animals have lots of suggestions. Could the spot be measles, Jungle Fever, Hippopox or Hippolums? Is she allergic to cake or is it a blister?

Hippo tries all sorts of things to make the spot go away. She covers it up, uncovers it, rolls around in sootimus from noseymus to footimus, eats lettuce for a week and even has an injection, but nothing works. 'The spot on Hippo's bottomus stuck firmly to her cheek.'

Until a little lad comes along, searching for something he has lost. He knows exactly what to do about the spot on Hippo's bum! What do you think it could be?
For more information on ReadingZone please visit www.readingzone.com
Related Articles
ReadingZone: best new books published in October
ReadingZone: The best new books February 2011
ReadingZone: The best new books January 2011
ReadingZone: The best new books March 2011
ReadingZone: The best new books April 2011
Our pick of children's books for October
Christmas Toddler Toys.. books
Christmas books published: December 2011
New books published: January 2012
Related Forum Topics
Forums: 3-5yrs
Have Your Say
Be the first person to comment on this article, just post a comment below.