3-5
Books/DVD's
New Books Published: September 2012
DearZoo Touch and Feel is delightful book that allows baby's to interact with the story and explore new sensations. Poppy Cat All Aboard takes toddlers on a journey as Poppy Cat go on a treasure hunt. Bob and the Moontree Mystery is a book Bob's discoveries as he sets off for a day of work on the moon.
Baby
By Rod Campbell
Published by Macmillan Children's Books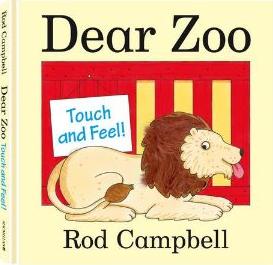 ISBN : 9780230757875
£7.99
This gorgeous book for babies celebrates the Dear Zoo story - a boy who is trying to find the perfect pet. He is helped in his quest by the zoo, which sends him one animal after another to help him find the best pet.
However, the frog they send is too jumpy, the camel is too grumpy, the lion is too fierce and so on until the perfect pet is found for the little boy.

Instead of the traditional 'lift the flap' format for this book, there are 'touch and feel' elements on each of the pages that younger children can enjoy. Each of the animals being presented gets its own spread with a 'touch and feel' element including a fluffy lion's mane, a rough elephant's ear, a fur patch on the camel etc.
There is also guidance for the person reading the story to explain what baby can feel on that page, making it a lovely book to share. It is and bound to be a hit with youngsters and parents alike.
www.readingzone.com/?zone=pz&page=latest_titles&age=0plus
Toddler
By Lara Jones
Published by Macmillan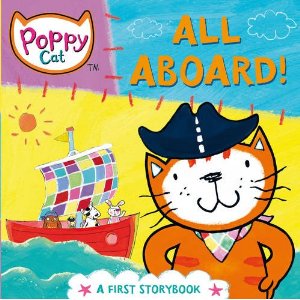 ISBN : 9780230754003
£4.99
Poppy Cat is heading off on new adventures in a series of 'first story books' that are ideal for toddlers getting to grips with following a story line. Each of the stories focus on exploration and friendship.
In All Aboard, Poppy Cat and her friends are on a treasure hunt and set off with a map, a boat and lots of sunshine. Unfortunately when their friend Egbert magically appears, things start to go wrong as he demands to be in charge and gets them hopelessly lost in a fog. But a kindly whale saves the day, treasure is found and contentment restored.
Blast Off, a companion title, sees Poppy Cat and her friends zoom off into space where they enjoy floating about and a space rescue before Egbert appears and steers them into an asteroid storm! Plucky Zuzu sees them safely through and the friends celebrate.
These sturdy board books are ideal for small hands and the trademark Poppy Cat colours of the rainbow make them appealing. Colourful pages tell the story in pictures, supported by simple text in the side panels on each page so they are simple to follow but with plenty happening. They are sure to be enjoyed by both boy and girl toddlers, especially if those who are already familiar with the Poppy Cat character.
3 - 5 years

Bob and the Moontree Mystery

By Simon Bartram
Published by Templar Books
ISBN : 9781848777460
Bob, the Man on the Moon, already has a large fan base among young readers. Each day, Bob heads off to the Moon for a full day's work including looking after Moon tourists and tidying up the moon a bit.
In this story, a strange seed lands on the moon one day and by the next morning, when Bob returns to the Moon, it has grown into an enormous moon tree. A few days later, it sprouts lots of golden globe fruit and Bob has to guard it from moon tourists - helped by a few aliens.
Bob, however, still refuses to believe there is any such thing as aliens, even when one of the fruits land in his garden and hatches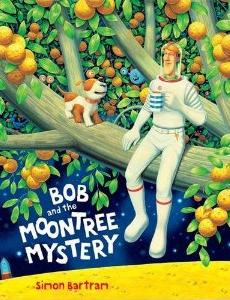 overnight - into an alien.
The luminous illustrations on each page are highly detailed and, like earlier books about Bob, the Man on the Moon, there are many visual clues for children to suggest that aliens are very much part of the Moon landscape – if they look hard enough, they can see them on Earth, too.
For more information on ReadingZone please visit www.readingzone.com
Related Articles
ReadingZone: best new books published in October
ReadingZone: The best new books February 2011
ReadingZone: The best new books January 2011
ReadingZone: The best new books March 2011
ReadingZone: The best new books April 2011
Our pick of children's books for October
Christmas Toddler Toys.. books
Christmas books published: December 2011
New books published: January 2012
Related Forum Topics
Forums: 3-5yrs
Have Your Say
Be the first person to comment on this article, just post a comment below.