3-5
Books/DVD's
New books published: March 2012
I Love My Mummy is a a lovely gift. now available in a hard board book, out just in time for Mothers Day on March 18th... Slightly older children will love the illustrations in Welcome to Alien School, which is by the same authors that bought us How to Grow a Dinosaur. Enjoy.
Baby
By Emma Dodd & Giles Andreae
Published by Orchard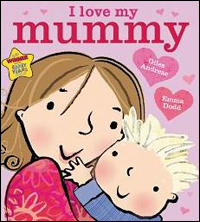 ISBN 9781408309575
RRP £5.99

There is no on more special than mummy for very young children and this wonderful book celebrating her is now available as a board book - just in time for Mother's Day.

It works with children of all ages because mummy does so many recognisable things in this book and the pictures will make children giggle ñ mummy singing in the car, dancing around in her underwear and of course giving treats ('when Iím good').

The text is by Giles Andreae, creator of Purple Ronnie, and it is warmly interpreted by Emma Dodd in the images ñ funny, cosy and just right to celebrate that special person in a small child's life.
Toddler
By Catherine & Laurence Anholt
Published by Orchard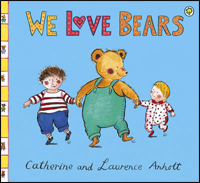 ISBN 978-1408311691
RRP £5.99

We Love Bears is by a celebrated duo of children's picture books, Catherine and Laurence Anholt who are behind treats such as Chimp and Zee. In this story, two small children are lead by their own teddy bear into the special world of bears.

"There were hundreds and thousands of bears,
Talking and walking in pears.
There were teddy bears dressed up in skirts,
And pyjamas and trousers and shirts."

Children are lead through Teddy Bear Town and into so recognisable scenes such as swimming pools, a school, train rides and shops and the afternoon ends, naturally, with a teddy bears' picnic.

The scenes are colourful and detailed and children will enjoy exploring the teddy bear's world, with the cosy reassurance of cuddling their own special bear while they read it.



3 - 5 years

By Caryl Hart & Ed Eaves
Published by Simon & Schuster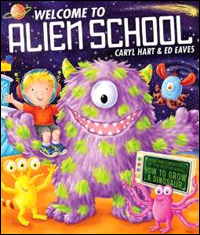 ISBN 9780857072573
RRP £5.99
You may recognise this author/illustrator duo from bestselling books like How to Grow a Dinosaur, but this latest title takes us into very different territory - space, aliens and alien school.

Albie is just getting ready to launch his new rocket when mum calls him - it's time for school. But this time when he buckles up, they don't head down the high street to everyday school but launch into space and land on an alien planet - just in time for Alien School to start.

This is a fun take on what school might really be like to small children - full of strange creatures such as teachers (a rather green version with lots of eyes, in this story), and very big children (purple with green spots here) who look scary enough to eat you....!

Albie learns that although they look threatening, these aliens are actually very friendly ñ and they are just as curious about him as he is about them, especially once the teacher reassures the aliens that the human child won't eat them....
For more information on ReadingZone please visit www.readingzone.com
Related Articles
ReadingZone: best new books published in October
ReadingZone: The best new books February 2011
ReadingZone: The best new books January 2011
ReadingZone: The best new books March 2011
ReadingZone: The best new books April 2011
Our pick of children's books for October
Christmas Toddler Toys.. books
Christmas books published: December 2011
New books published: January 2012
Related Forum Topics
Forums: 3-5yrs
Have Your Say
Be the first person to comment on this article, just post a comment below.