Baby
Shopping
Emily Evans stretch-mark cream
Maternity guru Emily Evans, owner of celebrity-favourite boutique 9 London, today launches the first product in an exciting new body range for mums-to-be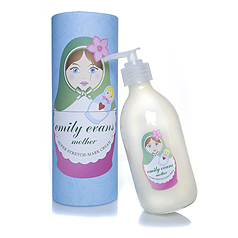 Entitled 'emily evans mother', the first product in the collection – a soothing stretch-mark cream – will be launched exclusively at Harrods on November 14.
Emily, a mother of three, has become a firm favourite of celebrity mums, dressing everyone from Victoria Beckham and Gwen Stefani to Elle Macpherson and Kate Winslet in her stylish vintage creations and bold prints.
And she feels the body range, which will include a soothing menthol foot gel, a miracle cream and a luxurious bath soak, is the perfect complement.
"I've been wanting to do this for such a long time but having two babies in the space of 18 months, as well as opening a new store in Sloane Square and a concession in Harrods, has taken up every spare minute," she explained. "I trialled the stretch-mark cream with a group of pregnant women and the feedback was absolutely amazing – not only does it work, it smells absolutely divine."
Emily's special blend of seaweed, vitamin E and shea butter is wonderfully hydrating and helps to soothe and regenerate the skin.
The natural ingredients have been used for centuries to heal scar tissue and breathe new life into tired skin, while the comforting blend of lavender, patchouli, geranium and bergamot have been carefully selected to help calm and de-stress.
Emily adds: "Having had three children myself, I know how important it is to look after yourself during pregnancy. All these products are designed specifically to give mums-to-be that spa experience in the comfort of their own home."
The stretch mark cream comes in a 300ml bottle and is priced at £38. It will be available from November 14 from
Harrods
and
9 London.
Related Products
Have Your Say
Be the first person to comment on this article, just post a comment below.