Change
Current Location:
SW1W 8EL
Recaro, Young Profi Plus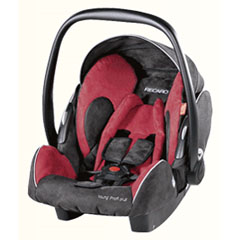 RRP: £110.00
Weight: 4.6kg
Group 0+: 0-15mths

The Recaro Young Profi car seat has won many awards for its adjustable back rest which means you can use this seat until your baby is 13kg. It can be secured using the seat belt or onto and ISOFIX base.
Reviews
Reviews in chronological order (Total 1 comments)
Rating: 8.5 / 10

tiarnylughysmama, Mother of 2, Northern Ireland


12 Feb 2011 10:23pm


a very handy and versatile carseat, plenty of room inside for baby, comfy too and very safe. easy to use with the seat belt (though we havnt got the isofix part) and handy getting in and out of the car. great if you use other cars/taxis to travel. our babys very tall and at 5mts we have just ajusted the back of the seat, also wasnt at all hard as i done it myself with a screwdriver. very easily kept clean (baby with reflux) covers are machine washable and dry on the line in no time at all. easy to use with the pram, just clicks on and to realise you push the clips down at each side, no end to wake or move baby. i totally cant fault it, bar the two buttons you need to push and hold in to get the handle to go back, bit tricky if your holding baby and trying it. wish i had of had one for our first.