Change
Current Location:
SW1W 8EL
Tommee Tippee, Closer To Nature Electronic Breast Pump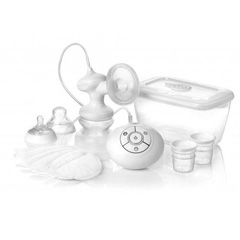 RRP: £79.99
Visit Website

This new electric breast pump gives great results at the touch of a button and is really easy to assemble, use and sterilize. Neat and compact, portable and light weight makes it a great kit. The unique silicone cups gives maximum comfort to mum and is specially designed to mimic a baby's natural feeding action. The pump has 4 expression phases. Light, low, medium and high. It is easy to use. It includes a handy sterilizer box and 6 breast pads.
Reviews
Be the first person to review this product, just add a review below.