Change
Current Location:
SW1W 8EL
Baby Bjorn, BabyBjorn Baby Carrier Miracle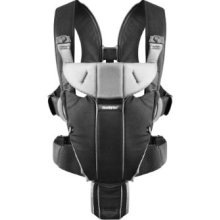 RRP: £91.99
Visit Website

With 50 years experience of designing baby carriers, BabyBjorn's new Miracle baby carrier has generously padded and adjustable waist belt and a comfortable back support with broad shoulder straps which allow for greater comfort whatever your shape or size. No extra insert is required for newborns and the design is excellent for baby's hips. An older baby can be face fowards at about 4-5 months. All fabric seams are place on the outside so as not to chafe against uncovered legs and arms.
Reviews
Reviews in chronological order (Total 1 comments)
Rating: 10.0 / 10

Mrs L, Mother of 1, Norfolk


25 Jan 2013 8:40am


Excellent product. Needless to say all my friends have one so I think the product's reliability is reflected in its popularity. My daughter is a tall 8 month old and I find she is now too heavy to cart around for more than an hour. But up until now it has been a must. Also, it is easy to adjust so that both my husband and I have used it regularly.