3-5
Activities
Treat yourself to a healthy Pancake Day
Whether you call it Shrove Tuesday, Fat Tuesday or even Carnival, on 21 February most of us will feast on pancakes at some point of the day. Why not give Pancake Day a healthy kick and incorporate some nutritional ingredients into your recipes?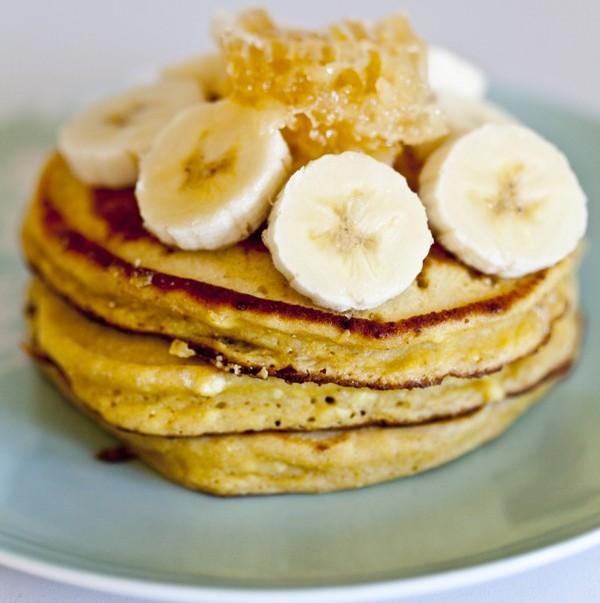 We've all heard health warnings to stay away from trans-fat treats and refined sugar goods...but isn't that essentially what makes pancakes such a tasty treat? Melted butter over fluffy batter, submerged in a pool of maple syrup and perhaps a dollop, rather a mountain, of whipped cream?
Although Shrove Tuesday only comes around once a year, you don't have to go overboard and indulge on pancakes, such as the one described above. The British Heart Foundation released a guideline of how to have a healthy Pancake Day. Inspired on their tips we've made a list of alternative choices to make your Fat Tuesday slimmer.
Replace refined sugar
You can still treat your sweet tooth and without the sugar rush. Give natural sweeteners like honey, agave syrup and pomegranate molasses, a try. Another alternative, rich in omega-3 fatty acids, are nut butters. Look beyond peanut butter and consider soy nut butter, cashew butter or almond butter. Daring chefs can sprinkle cinnamon, nutmeg or even a dash of ginger instead of the traditional sugar.
Put the white flour away
Wholemeal, amaranth, brown rice, buckwheat and quinoa are only a few alternatives you can use to replace white flour.
Fruity fillings
Branch out and try topping your stack with chopped or mashed banana, stewed fruits, such as rhubarbs and apples, or fresh berries and pomegranate seeds.
Savoury
Grilled vegetables and homemade vegetable curry make great fillings for everyone who's saving sweets for Easter. They're a great source of fibre, vitamins and minerals. Instead of ghee or butter, try unsaturated oils, like olive, rapeseed or sunflower. For squeamish little ones, who still haven't made peace with veggies, why not try sneaking them in the batter? Courgettes, spinach, squash and beetroot, not only are a healthy choice, but turn the batter into fun colours children usually love.
Dairy alternative
Let go of the tub of ice cream or the can of whipped cream, instead try some thick low fat yoghurt, such as fat free Greek yogurt or fromage frais, it still adds a tangy but fewer calories and saturated fat. If you really want to cut down on dairy, try soya or rice milk for the batter.

If all else fails...
Sometimes, no matter how hard we try, it's impossible to resist a gold old fashion pancake topped with lots of sugar and cream. If temptation comes knocking on Tuesday and you just can't say no, why not balance it with a fun activity like pancake racing? Click on the links below to find out more about races taking place around London!
- Better Bankside Pancake Day Race
- Great Spitalfields Pancake Race
- Leadenhall Market Pancake Race

Related Products
Purepotions, Skin Salvation Bath Oil
A Real Cool World, The FlexiBath
Related Forum Topics
Forum: 3-5yrs
Have Your Say
Be the first person to comment on this article, just post a comment below.