Change
Current Location:
SW1W 8EL
Purepotions, Lavender Nappy Salve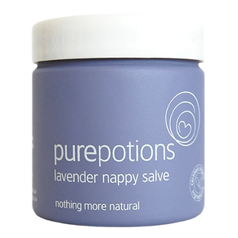 RRP: £8.99

Purepotions Lavender Nappy Salve is an essential product for any parent's baby changing kit. This barrier salve can repel the dampness that causes nappy rash. Lavender Nappy Salve is also great as a multi purpose product that is also suitable for dribble rash, chapped skin, cradle cap and as a lip balm.
As with all our products, our nappy salve is 100% natural and contains no petrochemicals, parabens or preservatives which can often cause skin irritations.
Reviews
Reviews in chronological order (Total 1 comments)
Rating: 9.0 / 10

Robyn1, Mother of 1


8 Jan 2015 4:50pm




The Purepotions barrier cream has worked wonders as a lip balm and has been brilliant for the eczema rash on my 3 year olds elbows. I had also been using it for cracked and sore nipples while breastfeeding my son and found this works just as well if not better then a lanolin cream.

I love the Purepotions products and shall definitely continue to use them.
Quick Links:
,
Baby perfumes
,
Baby Wipes
,
Balms
,
Bathing
,
First Aid
,
Moisturisers
,
Nappy Creams
,
Pregnancy Stretch Creams & Oils
,
Sanitisers
,
Sun lotion