3-5
Education
Best books for 3-5yrs - 12 month review
Each month during 2009, the editors at ReadingZone have reviewed their 'top reading recommendations' for The Baby Directory, for children aged 3-5yrs+.
We have summarised ReadingZones reviews below (just in case you missed the full reviews in our monthly e-newsletter).
Stuck for stocking filler ideas?.. Simply click on the images below to be taken through to their Amazon page. Our personal favourites are The Pirates treasure and Illustrated Stories for Christmas.
January: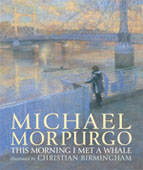 This Morning I Met a Whale
By Michael Morpurgo Published by Walker Books

After hearing about a whale in the Thames in 2006, Michael Morpurgo wrote a story to explain to children what made the whale do this. It is told through the eyes of a boy called Michael, and beautiful illustrated by Christian Birmingham.
February: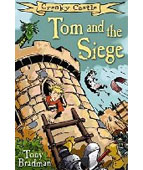 Creapy Castle: Tom and the Seige
By Tony Bradman Published by Usborne Publishing

Tom and the Seige is part of the Creaky Castle series and is set during medieval times. Follow the antics of Tom who lives in Creaky Castle with his parents and sister, Matilda and discover what happens when Tom's mum is determined to send her mischievous son off to Sir Gilbert de Grouchy's strict Squire School at Castle Grim.
March: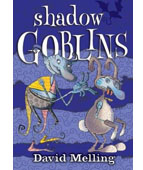 Shadow Goblins
By David Melling Published by Hodder Children's Books

Welcome to the world of the Shadow Goblins, the fourth book in the series by David Melling that sets out to teach us about goblins. Goblins have many different habitats – trees, rocks, water, or the dark –and personalities. There are, though, things they share in common and these include a love of all things gross, being lazy and a tendency to end up in trouble.
April: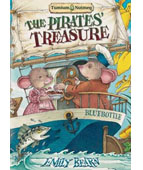 The Pirates Treasure
By Emily Bearn, illustrated by Nick Price Published by Egmont Books

This is the third adventure about the mice couple Nutmeg and Tumtum, who live in the broom cupboard of Rose Cottage and keep a watchful eye on two children who live there. When General Marchmouse, unexpectedly joins them on a camping trip, things soon begin to go wrong. General Marchmouse discovers a toy boat and insists they set sail for a nearby island. Before they know it, Tumtum and Nutmeg find themselves at the mercy of some fierce pirate Rats!
May: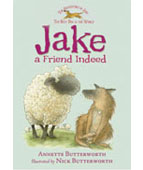 Jake: A Friend Indeed
By Annette & Nick Butterworth Published by Happy Cat Books

From the series based on real life beloved pet Jake (belonging to author Nick Butterworth and his wife), this book follows Jake as he gets into all sorts of mischief whilst staying on a farm with his owners. After annoying the resident sheepdog by trying to 'teach himself' how to round up sheep, Jake proves his worth by helping out in a sticky situation.
June: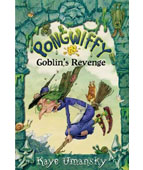 Pongwiffy and the Goblin's Revenge
By Kaye Umansky and Nick Price Published by Bloomsbury Publishing
The ebullient and much-loved character Pongwiffy the witch has been brought back to life by Bloomsbury nearly 20 years after the first title was published. The humour and anarchy of the books will appeal to Horrid Henry and Roald Dahl fans as well as encouraging more reluctant readers to pick up the next book in the series.

July: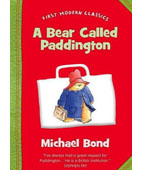 A Bear Called Paddington (First Modern Classics)
By Michael Bond Published by HarperCollins

This small bear from Darkest Peru has joined the ranks of Pooh Bear as a modern classic and to cement his reputation, the original story of Paddington's arrival in Britain (at Paddington Station) has been republished as a First Modern Classic. Many of today's parents will remember enjoying Paddington's adventures during their own childhoods.
August: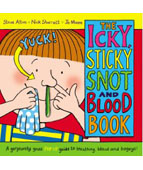 The Icky, Sticky Snot and Blood Book
By Steve Alton, Nick Sharratt and Jo Moore Published by Bodley Head Children's Books

This book has obvious appeal to young readers and the 'real' bogey (which feels utterly convincing) on the front cover will be enough to persuade boys and girls alike to turn the pages. It is a factual look at how we breathe and takes children on a journey through the body, exploring what happens to the air we have inhaled as it passes through the nose and throat, the bloodstream and finally arrives in the heart.
September: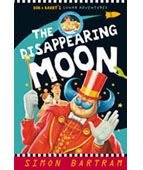 The Disappearing Moon
By Simon Bartram Published by Templar Publishing

The Disappearing Moon is the first fiction story based on the best selling picture book, Man on the Moon, which won a Blue Peter Award. Bob is the Man on the Moon and his day job on the Moon includes showing tourists around, clearing up litter and checking for aliens. Every night he flies home to Earth, accompanied by his six-legged dog, Barry. When the moon disappears Bob is determined to find it!
October: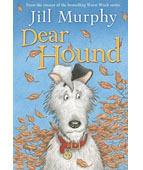 Dear Hound
By Jill Murphy Published by Puffin

Jill Murphy, author and illustrator of the Worst Witch series, has created a wonderful new character called Alfie in a heartwarming story that was inspired by a real life event when the author lost her dog. Alfie is a large, grey deerhound puppy who loves cheese, digging holes and his owner, a boy called Charlie. When he is lost one day, he finds himself in the wood, where a pair of foxes decide to help him.
November: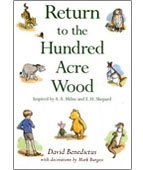 Return to the Hundred Acre Wood
By David Benedictus and Mark Burgess Published by Egmont Books

So what happened to the animals of the Hundred Acre Wood when Christopher Robin left for school? This is the starting point of this beautifully-produced story that revisits the classic Winnie-the-Pooh books by AA Milne. It will be a treasured addition to any Christmas stocking this year.
December: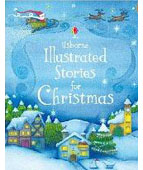 Illustrated Stories for Christmas
Published by Usborne Publishing

This is an ideal gift idea for the fast approaching festive season. This collection boasts some of our favourite classic Christmas and winter tales, including The Snow Queen, A Christmas Carol and The Night Before Christmas. Told in an easily-accessible way for younger readers, and beautifully illustrated it is the perfect book to encourage younger children to read with.
For further recommendations, and more information on RreadingZone visit www.readingzone.com
Related Products
Baby Bjorn, Babysitter Balance
Have Your Say
Be the first person to comment on this article, just post a comment below.