Change
Current Location:
SW1W 8EL
Petite Star, Zia X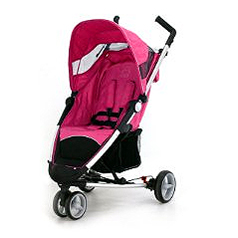 Weight: 6.3kg
Folded dimensions cm: 75 x 36 x 34

Reviews
Reviews in chronological order (Total 1 comments)
Rating: 10.0 / 10

Mrs L, Mother of 1, Norfolk


25 Jan 2013 8:46am


I have used this from the word Go. I would have said this is designed more for the city as it is so light and portable. However, I live in the country and so have really put it through its paces. Mud, gravel, snow etc. It is really very good. You can lower and raise the back so that the baby can either look and what is going on, or go to sleep. I found the straps a little fiddly to adjust but once i'd done that I found doing everything up very easy. The sleeping bag attachment works very well at keeping baby warm. There is also a waterproof cover which is a good essential. The whole buggy is a very nifty bit of kit.