Pregnancy
Shopping
Buying Guide to Baby Mattresses and Bedding
If you're expecting your first child or grandchild, this buying guide from natural sleep experts, Naturalmat, will help you choose the right mattress and bedding your new baby.
Baby Beds
Before choosing your mattress and bedding sizes, you'll need to know which baby bed you will use.
The safest place for your baby to sleep is on their own sleep surface, in the same room as you, for at least the first six months. Many parents use a smaller crib or moses basket for the first 6 months then move the baby into a cot or cot bed. Co-sleeping cots and bedside cribs are also becoming increasingly popular as they attach to the side of the parent's bed, keeping the baby close but in their own crib. However a cot or cot bed can also be used from birth.
A cot has fixed sides so it can be used from birth to approximately 2 years. A cot bed is larger and has removable sides, so it can be converted into a toddler bed when your child grows enabling it to last until they are approximately 5 years.
Mattress
Whichever baby bed you choose, a firm and flat mattress is recommended by experts for safer sleep. It is advised to use a new mattress for your baby. Your baby's mattress should be in good condition and fit the Moses basket or cot properly.¹ Check the mattress size required for your baby bed (this is usually found under product details online or in the instruction manual). The mattress should fit the cot with no gaps down the side that are more than 3cm.
Many baby beds come with a foam mattress included, but lots of parents choose to research and buy a better quality mattress for their baby to sleep on. Natural fibre or organic mattresses can provide superior breathability to foam mattresses, helping the baby regulate their body temperature and they don't contain chemicals so they are thought to be the healthier option.
The Naturalmat Coco Mat
is specifically designed for newborns, available for moses baskets, cribs, cots, cotbeds and many other popular brand sizes. This award-winning mattress is firm and breathable making it the perfect choice from newborn to toddler and beyond. If you have any usual shape of moses basket of baby bed, you can use Naturalmat's made to measure service.
Mattress Protector
A waterproof cover (or mattress protector) is recommended to keep your baby's mattress clean and dry as this can be removed and washed. The
Naturalmat organic waterproof mattress protector
is soft, breathable and machine washable at 60°C making it a practical and comfortable choice for your baby.
Bedding
A fitted sheet will provide an additional protective overlay to your child's mattress and protector and will hold in place if your baby wriggles around in the night. If you have an usual sized crib or moses basket, a fitted sheet may not be available so a flat sheet firmly folded under the mattress is an alternative option.
The Naturalmat organic cotton baby bedding set
includes a mattress protector and two sheets so makes a great starter set.
Most parents use a baby sleeping bag instead of top sheet or blanket. If you do use a flat sheet or blanket as a top sheet, it should be firmly tucked in and not above shoulder height. Place your baby on their back in the 'feet to foot' position – this is where the baby's feet are placed at the foot of the cot - so they can't wriggle down under the sheets¹.
Quilts, duvets and pillows
Quilts, duvets and pillows should not be used for babies under one year old¹. After this, it's fine to replace baby blankets and top sheets with a cot duvet if you wish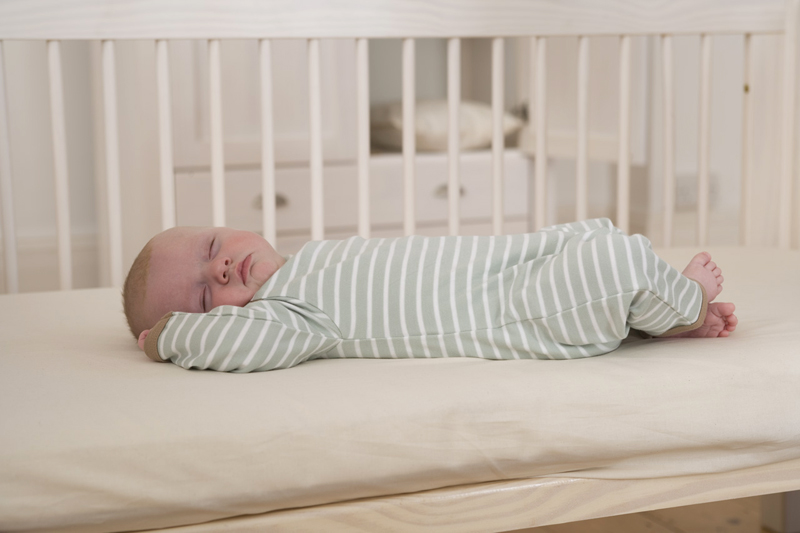 Read more information about Safer Sleep for Babies at The Lullaby Trust¹
Visit the Naturalmat Baby Boutique at 99 Talbot Road, Notting Hill, W11 2AT to shop their natural mattresses and organic bedding alongside nursery furniture and accessories from Leander, Stokke, Aden + Anais and other leading brands.
Shop online at www.naturalmat.co.uk
Related Products
Fisher Price, Fisher-Price Electric Steam Steriliser
Image Casting, Baby Foot and Hand Casts
Have Your Say
Be the first person to comment on this article, just post a comment below.