Change
Current Location:
SW1W 8EL
Boots, Expert Stretch Mark Oil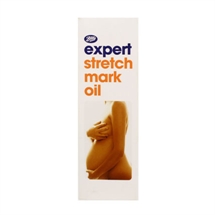 RRP: £5.10
Visit Website

A soothing oil that nourishes the skin without leaving an oily residue.
This wonderfully light stetch mark oil sooths the skin, leaving it soft and supple, helping to prevent the appearance of stretch marks. It is hypoallergenic and has been dermatologically tested. For best results apply twice a day to stomach, thighs and waist.
Reviews
Reviews in chronological order (Total 3 comments)
Rating: 0.0 / 10

Perfect Balance Clinic, Mother of 1, Hertfordshire


29 Dec 2011 3:08pm


I tried and tested Silderm oil and cream which is the only stretch mark product that is 100% clinically proven to work. We sell it on our website www.perfectbalanceclinic.com in the store section. I have free samples if anyone wants to email me sara@pbclinic.com It worked for me!

Rating: 9.0 / 10

bibby_mummy, Mother of 1, Derbyshire


10 Oct 2011 8:46am


I have been using it twice a day since I received it. I find it really good, normally I'm not a big fan of oil based products as they leave my skin feeling quite oily and greasy. But this is really different it absorbs into the skin and doesn't leave any residue. It has definitely reduced the appearance of my stretch marks. The only fault I can find with it is that it is non perfume I would like a bit of scent with it, but that's just personal preference. Its a very good product which I would recommend to others and have done to my pregnant friends. Im 39 weeks pregnant now and have hardly any stretch marks, I put thus down to using the cream.

Rating: 9.0 / 10

jackie.c, Mother of 1, West Sussex


18 Aug 2011 2:15pm


fantastic product. It left my skin feeling very soft and stopped the itching feeling i had been getting from the stretching. It rubbed in very well and was less greasy then other products i have tried,also did not leave me feeling clammy or heavy like other products i have tried.i would def reccomend this product above all the other oils, and i will continue to use this product throughout my preganancy.
Quick Links:
,
Baby perfumes
,
Baby Wipes
,
Balms
,
Bathing
,
First Aid
,
Moisturisers
,
Nappy Creams
,
Pregnancy Stretch Creams & Oils
,
Sanitisers
,
Sun lotion