Pregnancy
Shopping
Mum2Mum markets
Cath Harrop, a seasonsed eBay seller and buyer, has launched a new way of connecting local London parents who are wanting to buy and sell nearly new baby and toddler equipment . With the first markets launched in Wimbledon, Southfields and Balham last October, she's now looking to extend her reach to other parts of London, and to franchise to other areas of the UK.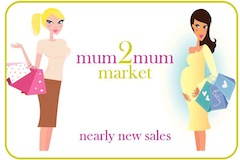 Cath Harrop has tried all sorts of ways to acquire and pass on baby items. But with selling and buying items on eBay you can't always trust the quality and the postage is increasingly expensive. Plus there's eBay's cut and the hassle of sorting things out if there's a dispute.
You have to be up at silly-o'clock in the morning to prepare for car boot sales, and then you don't often get a concentration of parent buyers.
And we've all wasted hours waiting for peolpe to come and collect Freecycle items.
So late last year, Cath hired two halls, and went leaflet mad in the local areas of Wimbledon, Southfields and Balham. "I couldn't believe how popular the idea was when hundreds of buyers turned up to our first sale. Then I realised how transient London is for many people. They don't have the space for the equipment once it's outgrown, or family members to pass it on to - and in times of austerity there's no logic in renting a storage unit. Plus many people aren't members of the NCT, so don't hear about their sales, and can't become a stall holder.
The sales take place between 2-4pm so there's none of that mad rush in the morning and the venues are conveniently close to public transport.
In addition to taking a stall (currently £25), you're also given guidance by Cath who sends out a seller's tip sheet, including pricing recommendations. Supermarket clothes are currently worth around 50p an item or 3 for £1. You can't expect much more than that when the items new cost less than £5. For cots, pushchairs and bigger items she suggests 30% of their retail value as a good guide.
"One lady sold her 8 year old Bugaboo for £280. It had taken her ages to come to terms with passing it on as she'd walked literally miles with it, with all four of her children."
Cath also promotes a local charity, such as Shooting Stars, who will accept items from stallholders who haven't managed to sell everything.
For details, dates and venues of the next sales visit: www.mum2mummarket.co.uk
Related Products
Have Your Say
Be the first person to comment on this article, just post a comment below.