Pregnancy
Health
NEW: AngelSounds foetal doppler
Do you need an incentive to put your feet up during pregnancy? Relax for a few minutes a day and just listen to the little miracle growing inside your tummy. The AngelSounds new foetal doppler may be just the thing to allay your fears and help you bond with your baby-to-be.
For straightforward pregnancies with Doctor's appointments weeks apart, why wait for the next appointment to hear your baby's heartbeat? Simply apply some ultrasound gel, relax and use the head phones provided to hear your child's heartbeat. Although some mothers have heard it earlier, to avoid disappointment it is suggested you wait until the recommended 16 weeks before you try and listen for a heartbeat.
Along with the headphones provided, a recording cable is given so you can record the baby's heartbeat and kicks to a CD, mobile phone or MP3 player.
The AngelSounds Fetal Heart Detector is priced from 34.99, and it is available from retailers such as www.amazon.co.uk and www.nappyshop.co.uk.
We have 3 review samples to test - so don't forget to join our Facebook page where we recruit product testers.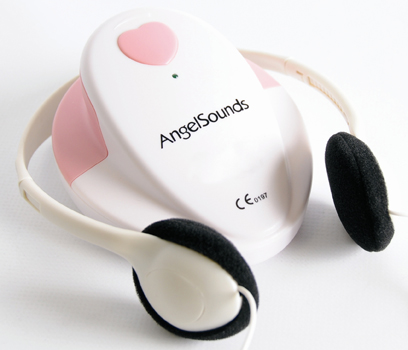 Related Products
Have Your Say
Be the first person to comment on this article, just post a comment below.