3-5
Business Profile
In business at 7 A.M.
A new changing bag brand, 7A.M. Enfant, is making its mark in some of London's top parenting boutiques. It's Parisienne chic meets edgy New York, and we caught up with the designer and owner, Rebecca Campora to find out how it all started.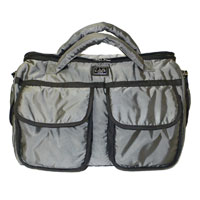 Rebecca Campora began designing in Paris, where she founded Studio 7 A.M. In the late 1990's she relocated to New York City and quickly fell in love with the excitement of her new home.
Following the birth of her second child, she looked for ways to make parenting in such a fast-paced environment easier. Using her design skills, she began creating parenting products that were both practical and stylish. "I wanted to design products that were not just for the individual, but benefitted the family as a whole," she explains. 7 A.M. Enfant was born.
Over the course of a few short years 7 A.M. Enfant has become a favourite brand of parents in both rural and urban areas. An array of modern and stylish foot-muffs for car seats and prams, as well as covers for baby carriers, ensure that all parents on-the-go will be able to find a product that suits their needs. The company continues to expand both domestically and internationally, and can be found in some of the world's most exclusive retail locations.
One of the latest editions to the collection is the stylish "Voyage bag". A changing bag which can be used for so much more. 7 A.M. Enfant's unique "door system" features a zipper that runs across the top of the bag and down both sides. When unzipped, the back portion folds down, making it easy and practical to search every corner for that lost dummy.
The interior is lined with pockets for mobiles, cameras, bottles and nappies. Its ultra-lightweight and soft construction allows it to be collapsed for easy storage. Complete with changing pad, insulated bottle holder/foodstorage, and pouch, this diaper bag equips parents for the adventures ahead.
Related Products
Related Forum Topics
Forum: 3-5yrs
Have Your Say
Be the first person to comment on this article, just post a comment below.