3-5
Books/DVD's
New books published: January 2012
From a lovely ladybug with a big heart to a disco dancing dinosaur, our first pick of books for 2012 is definitely geared towards animal lovers. Welcome the New Year in the company of nature's friendliest characters.
Baby
Published by Dorling Kindersley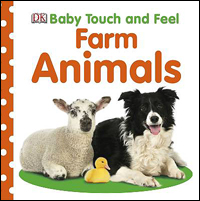 ISBN 9781405392570
RRP £3.99

These 'touch and feel' books are a great introduction for babies to farm animals and will encourage early sensory learning. Fabric patches within the images are great to get little fingers exploring the pages to find a velvety cow, a woolly sheep, a feathery cockerel, and a cuddly kid.

Very young children also love looking at 'real' pictures so they are bound to find the photographic images appealing.

This book is also useful to introduce early concepts such as colours, shapes and patterns, and the sturdy pages, tactile covers and rounded corners make them easy and safe for young children to explore.

Other books in the series include Baby Animals and Tractor, and the three books together will also make an attractive gift.
Toddler
By Jane Clarke & Lee Wildish
Published by Red Fox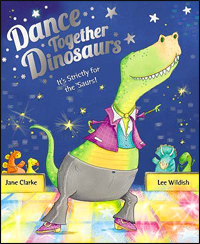 ISBN 9781849410137
RRP £5.99

Strictly Come Dancing meets dinosaurs in this fun rhythmic read that will get you dancing away the January blues!

Each of the dinosaur contestants has their own special dance to perform in front of the judges. Come and see the tangos and the sambas, the disco dance and the boogaloo – just mind the dinosaur poo!

Bright lights, outrageous outfits, funny details (check out the dino's platform boots and Kylie's sparkly number!) and the 'Strictly' package make this an appealing book for the adults in the family as well as the children.

But watch out for the vanishing judges and the twist in the tale ..... who is going to be the real winner among these competing carnivores?!

'Dinosaurs, get ready!
Polish your fangs and claws,
Don't keep the judges waiting –
Come dancing with the 'saurs!'



3 - 5 years

By Alex T Smith
Published by Scholastic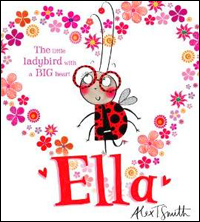 ISBN 9781407109640
RRP £6.99
Ella is a ladybird with a strangely familiar problem – two very horrible and spoilt wasp sisters who don't want her to go to the ball. Yes, this is a fabulous retelling of the Cinderella story, with a cast of bugs.

Little Ella slaves away for her sisters (who NEVER say 'thank you') and she is always very tired. But all that is about to change as Pierre, a famous artist spider in Paris, is throwing a Grand Bug Ball at the Candelabra Café and Ella's fairy godmother, a bee called Mrs Buzzbottom, is determined she shall go!

Naturally, Ella and Pierre find each other and fall in love – but how can this romance blossom if Pierre doesn't know who Ella is?

Look out for some stylish bug sunglasses, some stunning spotty outfits, and a trés chic spider.
For more information on ReadingZone please visit www.readingzone.com
Related Articles
ReadingZone: best new books published in October
ReadingZone: The best new books February 2011
ReadingZone: The best new books January 2011
ReadingZone: The best new books March 2011
ReadingZone: The best new books April 2011
Our pick of children's books for October
Christmas Toddler Toys.. books
Christmas books published: December 2011
Related Forum Topics
Forums: 3-5yrs
Have Your Say
Be the first person to comment on this article, just post a comment below.