3-5
Books/DVD's
ReadingZone: The best new books March 2011
This spring ReadingZone reviews each month's top new titles for babies, toddlers and 3-5yr olds.
Baby
Published by Walker Books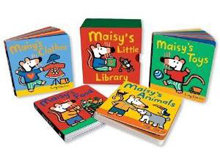 ISBN 9781844287031

Maisy is already loved by thousands of toddlers and preschoolers, and this gorgeous little library of four books brings this endearing character within the reach of babies, too.

Maisy's bold images and highly contrasting colours are ideal for catching young children's attention and these bright and colourful board books will be loved by little ones.

Each book focuses on things close to home that young children are beginning to recognise - the little library books cover animals, toys, clothes and food.

The four books come in a nicely-produced slipcase, making Maisy's Little Library an ideal gift, too.
Toddler
By Giles Andreae and Emma Dodd
Published by Orchard Books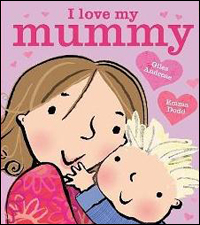 ISBN 9781408309575


With Mother's Day around the corner, we felt it was worth highlighting that special bond between a mother and her young child and this book is one of the best around.

It's written from a child's perspective and so the story is focused on the everyday things that Mum does for her toddler, from cuddles, tickles and kisses to wiping noses and bottoms and stories at bedtime; things that young children will recognise and that make them feel special and loved. There's also lots about the fun things Mum does, singing in the car or giggling at bathtime, and the images are modern and warm .

It's a perfect story for sharing because the little actions – tickling toes and kissing a child's head – can be played out during the story-telling, making this story just as special for Mum as for her child.
3 - 5 years

By Michael Foreman
Published by Andersen Press
ISBN 9781849392099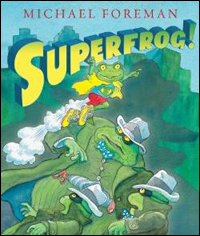 This is a brilliant picture book story about frogs, toads, and lots and lots of tadpoles!

Little Frank (who is a frog) loves his life in Pond City, at least during the day. At night time, however, the pond folk are menaced by slimy, bug-eyed monsters that emerge from the murky depths of the underworld.

One night, the bug-eyed monsters go too far and Little Frank decides enough is enough – it's time he became Superfrog! With a leap, a jump and a hefty 'KERPOW' or two, Superfrog saves the day (and lots of little tadpoles).

Don't read this if you're afraid of the deep end in the swimming pool! Do read this if you like your superheroes green and jumpy!
Related Articles
ReadingZone: best new books published in October
ReadingZone: The best new books February 2011
ReadingZone: The best new books January 2011
ReadingZone: The best new books April 2011
Our pick of children's books for October
Christmas books published: December 2011
New books published: January 2012
New books published: February 2012
Related Forum Topics
Forums: 3-5yrs
Have Your Say
Be the first person to comment on this article, just post a comment below.