Pregnancy
Books/DVD's
Top pregnancy books
You may feel overwhelmed by the number of pregnancy books available in bookshops, from the very medical to the highly whimsical. But read on to find out which pregnancy books are most valued by Baby Directory readers.

What to Expect When You're Expecting
by Arlene Eisenberg, Heidi E. Murkoff, Sandee E. Hathaway £14.99, Simon & Schuster
This tried and tested - and newly updated version has excellent month by month information on how your body changes and your baby's growth and development. Very good for first-time mums who like a medical explanation, and is oddly satisfying for over-anxious mums wondering what each tweak may mean. Quite prescriptive on pregnancy do's and don'ts which you can take or leave as necessary.
Christine Hill's Pregnancy Guide
by Christine Hill £12.99, Random House
Having spent the last 25 years running antenatal and postnatal classes in West London, Christine Hill knows what questions women ask and what their main concerns are, which she quickly addresses in a practical and down-to-earth way. It covers birth issues, work issues, physical adjustments and pregnancy irritations was well as what happens during labour. Written in a "tell-it-like-it-is" style, but with a concern for the fears and queries of first-time mothers.
New Pregnancy and Birth
by Dr Miriam Stoppard £11.99, Dorling Kindersley
Miriam Stoppard's series of books around pregnancy and parenting are a popular choice because every issue is broken down into bite-sized tips, insights, diagrams and real-life examples. There is a medical confidence behind the advice but her tone is never preachy or patronising. Instead this guide gives you the facts about what is happening to your body and to your baby, whilst offering options to help you choose what pregnancy lifestyle, diet, birth and feeding regime feel right for you.
Your Baby Month By Month
by Su Laurent and Peter Reader GP £16.99, Dorling Kindersley
This is a wonderful step by step guide to the practical issues of being a parent – health, daily care, safety and feeding – but also more significantly, a great exploration of what your baby is doing developmentally from birth to two years. Explaining what happens roughly when and how you can enhance or encourage these milestones, the book is well structured, beautifully illustrated and written with great insight.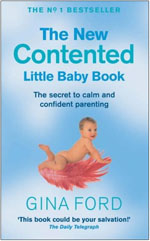 The New Contented Little Baby Book
by Gina Ford £9.99, Vermillion
Childcare guru Gina Ford's advice is not for all tastes – her new parent guidance is very structured around strict times when a new mother should feed, when a baby should be sleeping and so on. If you prefer a more 'organic' approach to sleep when tired, feed on demand etc, this is not for you. However if you are a very ordered person who is worried about the 'chaos' of new parenthood, it might be worth you giving her very structured regime a try. (If you find as a new mother that you are struggling with feeding, it might be worth reading any of Clare Byam-Cook's excellent books, for a different perspective.)
Related Articles
ReadingZone: best new books published in October
ReadingZone: The best new books February 2011
ReadingZone: The best new books January 2011
ReadingZone: The best new books March 2011
ReadingZone: The best new books April 2011
Have Your Say
Be the first person to comment on this article, just post a comment below.