Trying To Conceive
Conception
Planning Pregnancy Daily with First Response
First Response Daily Ovulation Test aid conception by telling you when you are ovulating.
Planning is important when trying to get pregnant. First Response Daily Ovulation test makes it possible to factor in the days you are ovulating so you can get pregnant quicker.
With the daily test you can track your ovulation for 20 days. The tests are 99% accurate and work by detecting a rise in you LH (luteinising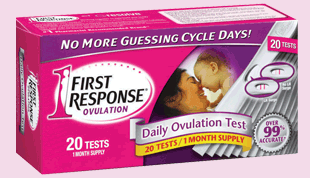 hormone) levels. A rise in your LH indicates that your body is preparing to release an egg. With 20 sticks in a pack you will be able to predict your most fertile times of the month more effectively and get pregnant sooner.
Related Products
Have Your Say
Comments in chronological order (Total 5 comments)