Toddler
Shopping
Kiddy Guardian Pro car seat
From 9 months to 12 years, this all-in-one car seat has already won praise from the safety brigade.
More and more car seats can be used to span different age groups in order to make them more economic for parents, but the new forward-facing 1, 2, 3 group seat from Kiddy has many other smart design details which have instantly made it the biggest hit with the likes of Which? and parent reviewers.
Smart safety features
Unlike most car seats which use the car's seat belts to take the force of a child in a situation when the driver has to break suddenly, the Kiddy Guardian Pro channels all that pressure into a specially designed block in front of the child. This 'ksa' (Kiddy shock absorber) is formed in a certain shape and made with particular materials to take any force and react safely rather than the passenger relying on just the push and pull of a seat belt.
It's not just about road traffic accidents – there are many times when a driver has to brake suddenly, and knowing that a device like this is taking the pressure can be a great relief to parents.
Additionally, the honeycomb design of the interior of the seat is designed to 'crumple' so that babies weighing up to 18kg have additional protection from the side, front (with its 'kiddy impact shield') and around the head.
Comfortable for any age
Children in the UK must ride with a car seat or booster until they are 12 or at least 135cm tall. Having a car seat that feels good to sit in and which doesn't restrict the view in any way is a real draw for restless older children who usually like to escape a car seat's restraint as early as they can. Indeed, as the Kiddy sits quite low down on the back seat, it suits older children because they don't feel they are perched on a 'baby seat'.
Using a handle on the back of the seat you can adjust the width and height easily with one hand, and the leg rest can also be adjusted easily as your child grows. Plus the seat is light and really easy to fit into the car (it does not require Isofix fittings).
Kiddy Guardian Pro – the details
RRP £219
Weight 7kg
Age Range 9kg to 36kg (as a guide: around 9 months until a child is 12 years or no longer needs a car seat)

For more information www.kiddy.de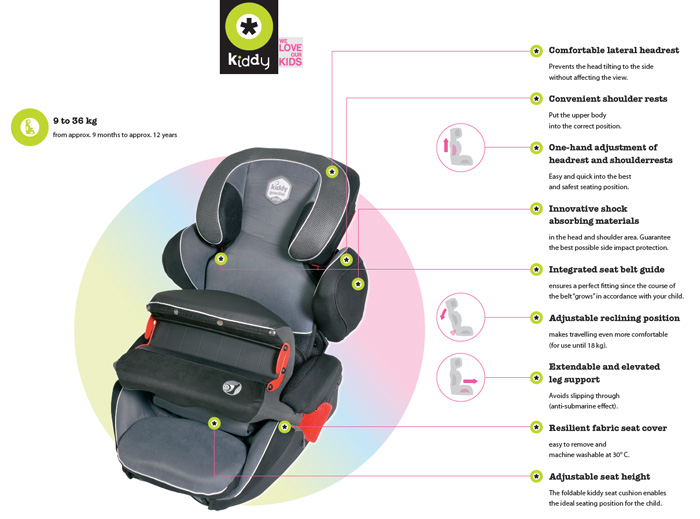 Related Products
Proactive, Proactiv Introductory Core Kit
Have Your Say
Be the first person to comment on this article, just post a comment below.