Toddler
Days Out
Easter Fun for Under-3s
Chocolate-free ideas for amusing little ones over the Easter weekend.
Not all Easter treats have to be made from cocoa beans, sugar and vegetable fat! With smaller children, especially, it's nice to mark this family time with little games and treasures that fill their eyes without necessarily endangering their milk teeth…

Snuggly friends
Babes with Babies have lots of sweet little treats for babies and small children. Their Darling Duck Soft Soother (£10.95) might not be quite the Easter chick, but is a lovely gift, as are Little Lucy the Lamb and Bashful Bernard the Bunny, both supersoft cuddly toys (£19.95) which can be ordered to arrive in a special gift box.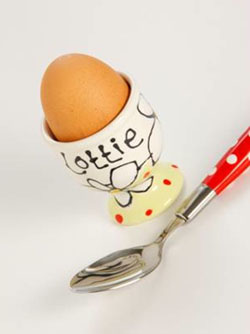 Egg heads
Gallery Thea, based in Suffolk, makes cute egg cups which work perfectly as a small Easter gift for your children or nieces, nephews and grandchildren. The ceramic egg cups can be personalised and cost £10 each. They can be ordered for delivery anywhere around the country. Call 01502 722 433 or visit the website for more information.

Easter trails
If you consider the maximum amount of chocolate you would like your child to eat at Easter and then divided that by a few eggs on a trail it's unlikely you'd get very far. And that's before you get swamped with a wave of chocolately treats from visiting friends and relatives.
Instead of laying down a garden full of sweets, hide favourite teddies in the bushes and send the children on a 'cuddly hunt'. If they find all the missing bears, dogs, cats etc they get a little bag of chocolate treasure.
Alternatively, buy a bag of coloured plastic eggs (many online party and craft websites sell them, or try a local stationers or toy shop). These are hollow so you can put your own treats in – a little soft toy or some stickers in each. If you have a few children playing, send them all out to find different coloured eggs each so that older children don't seize all the goodies before the smaller ones have found any booty.
Related Articles
New cooking sauces, ideal for family meals
Have Your Say
Be the first person to comment on this article, just post a comment below.