Change
Current Location:
SW1W 8EL
Aquaint, Natural Sanitising Water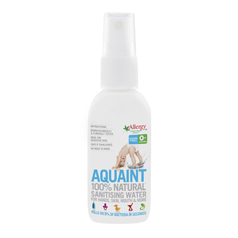 RRP: £2.99
Visit Website

Aquaint sanitiser is a remarkable revolutionary new type of sanitiser, that is 100% natural and non toxic so ideal for use with babies and children, yet it kills 99.9% of bacteria.

The revolutionary ingredient that makes this sanitiser so different from others is Hypochlorous Acid, which occurs naturally in the human body, to fight bacteria and germs. The only other ingredient aside from the Hypochlorous Acid is water.

So while Aquaint performs like any other sanitiser - killing 99.9% of germs, it is also safe for babies and children as it is safe if licked or swallowed, it doesn't dry the skin or need to be rinsed from surfaces that might end up in the mouth - such as teethers, and it can also be used on cuts and grazes without stinging, can come into contact with eyes, and is eco friendly.
Reviews
Reviews in chronological order (Total 1 comments)
Rating: 10.0 / 10

lilliesmum


15 Aug 2016 1:09pm


I have to say I don't generally use saniters as I find the smell and texture a bit off putting, and this makes me worry about the effect they might have if my little boy licks his fingers and happens to swallow any, so I am more of a baby wipe person usually. This sanitiser though I would feel TOTALLY confident using on a daily basis without worrying whether my little boy got it in his mouth or eyes or anywhere else. Personally for me I like that it doesn't make my hands feel dry or tight after using it, it doesn't smell of anything, and isn't sticky! My little boy doesn't mind me wiping his face and hands with it either, as it is literally like water! After reading it was fine to use on anything that might be put in the mouth I have used it to wipe clean cutlery when we have eaten in the park. I would totally recommend this to anyone else, especially those with little ones, and I carry it around in my bag constantly now!
Quick Links:
,
Baby perfumes
,
Baby Wipes
,
Balms
,
Bathing
,
First Aid
,
Moisturisers
,
Nappy Creams
,
Pregnancy Stretch Creams & Oils
,
Sanitisers
,
Sun lotion