Change
Current Location:
SW1W 8EL
Sylphar, Remescar Stretch Marks Scar Cream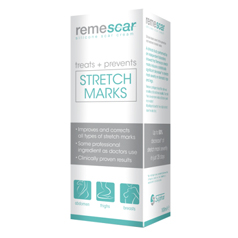 RRP: £24.99
Size: 100ml
Visit Website

Created by skincare experts and scientists in Belgium, Remescar cream is an affordable, non-invasive and clinically proven treatment that helps to heal stretch marks. This miracle treatment contain a film forming agent, frequently used in the treatment of wounds. A thin, transparent silicone film is released to hydrate, protect and restore the upper layer of the skin and stimulate collagen production, creating a protective barrier for stretch marks to help heal.
Available from Boots stores nationwide.
Reviews
Be the first person to review this product, just add a review below.
Quick Links:
,
Baby perfumes
,
Baby Wipes
,
Balms
,
Bathing
,
First Aid
,
Moisturisers
,
Nappy Creams
,
Pregnancy Stretch Creams & Oils
,
Sanitisers
,
Sun lotion