Change
Current Location:
SW1W 8EL
Boots, Nourishing Oil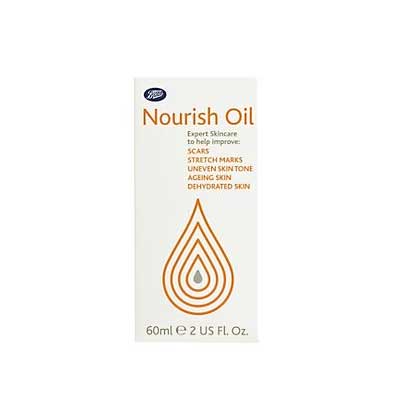 RRP: £7.14
Visit Website

A luxurious, nourishing oil for stretch marks, scars and ageing skin.
Packed full of Provitamin A and Vitamin E, skin is left smoother and more supple. It can be used for a range of skin problems, such as stretch marks, scarring, ageing and dehydration.
Reviews
Reviews in chronological order (Total 1 comments)
Rating: 7.5 / 10

reb11, North East Scotland


26 Aug 2011 9:15am


I have been religiously using this product for a number of weeks now & find that it keeps my skin very moisturised and smooth. Due to being 29 weeks pregnant and a petite size 6 my skin has felt extremely tight around my bump but after applying a few drops of the nurishing oil the uncomfortable tight pain eases and feels much more comfortable. I still have no stretchmarks so whether that is down to the oil or just being extremely lucky I am unsure - however not going to chance anything and will keep using the cream to the end & after my pregnancy. The only thing I would say about the oil is make sure you put it back in the box after you use it or stand it on a tissue as it is quiet greasy and seems to dribble down the edge of the bottle. Other than that it is great and doesn't have an unpleasent smell like some other oils I have used.
Quick Links:
,
Baby perfumes
,
Baby Wipes
,
Balms
,
Bathing
,
First Aid
,
Moisturisers
,
Nappy Creams
,
Pregnancy Stretch Creams & Oils
,
Sanitisers
,
Sun lotion