The Jojoba Company, Natural Australian Jojoba oil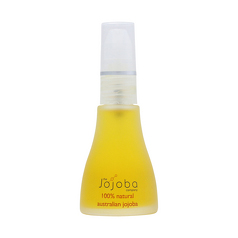 RRP: £12.99
Visit Website
Further Information

No need to take the entire bathroom cabinet with you as Jojoba oil is an all round amazing natural product which is ideal for even the most sensitive or allergy prone skin.
Ideal as a moisturiser for body, face, nails, lips, hands and even hair. Jojoba is the smallest molecule (almost identical to the human skin sebum, ) and so is easily absorbed.
Skin health is maintained by the oily solution sebum; 25-30% of the skin's sebum is made up of wax esters. The prime role of wax esters is to hold moisture in the skin, which keeps skin looking and feeling firm. As we hit our early 20's, our production of wax esters starts to decrease, allowing moisture to escape from skin cells. This begins the ageing process of skin, so moisturising becomes essential to maintain healthy, young looking skin. Jojoba is the only plant known to produce wax esters similar to those in our skin.
Jojoba is naturally hypoallergenic and contains powerful antioxidants, Omega 6 and 9 fatty acids, with Vitamins A, D and E. Remarkably, when applied to skin, the wax esters in jojoba provide similar nurturing and moisturising properties as our own sebum. Skin recognises jojoba as its own and lets it in to deliver active ingredients into the deeper layers of our skin.
No harmful detergents, chemicals or parabens.
No artificial fragrances or colours.
No PEGs, mineral oil or sodium lauryl sulphate.
No animal products.
Not tested on animals.