Change
Current Location:
SW1W 8EL
Purepotions, Chamomile Baby Oil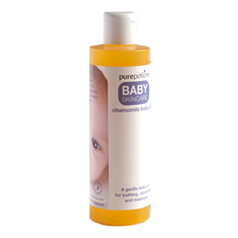 RRP: £11.99
Visit Website

This delicate Chamomile baby oil can be used as a natural replacement to a baby bathing oil, moisturising baby's delicate skin during bath time. Tgis oil is also ideal for baby massage and as a substitute for chemical based baby wipes for nappy changing. Just a few drops in some warm water to use with cotton wool is a gentle and natural way to cleanse baby's delicate nappy area.

Suitable for sensitive and allergy prone skin.
Reviews
Reviews in chronological order (Total 1 comments)
Rating: 8.0 / 10

Robyn1, Mother of 1


8 Jan 2015 5:43pm


This baby oil has proved useful for my newborn especially with cradle cap, the added bonus is that it is all natural. I love the Purepotions products and shall definitely continue to use them.
Quick Links:
,
Baby perfumes
,
Baby Wipes
,
Balms
,
Bathing
,
First Aid
,
Moisturisers
,
Nappy Creams
,
Pregnancy Stretch Creams & Oils
,
Sanitisers
,
Sun lotion